Are you a micromanager? Odds are, if you manage other people you have at least some micromanaging traits. It's hard to avoid.
The problem is, it hurts your team. Your employees are looking to grow and develop, and micromanaging stunts their growth. Stunt them long enough, and they'll leave.
And to replace them can cost you 50% to 200% of the employee's salary. Yikes!
So take the quiz and find out how much of a micromanager you are. Hopefully, you'll discover that you're a star.
Of course, there's the other side, too. You may find out you're a completely over-the-top Control Freak.
Good luck!
If you enjoy the quiz, check out all of our other quizzes and tools.
The Busy Manager's Guide
to Effective Delegation
Empower Your Team, Increase Productivity, Get Things Done Right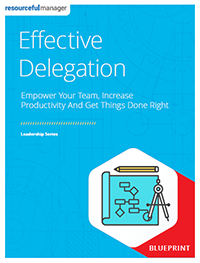 If you want to empower employees, hold them accountable and finally – LET GO … then check out our Effective Delegation Blueprint.
It's a 57-page, complete step-by-step guide to delegating without feeling like you're passing off "busy work" or being perceived as a paranoid micromanager. What you'll learn:
How to decide what to delegate, and what you shouldn't
How to select the right person to delegate to
How to give instructions so the person "gets it"
How to ensure expectations, timelines and deadlines are met
How to monitor and follow up without being a micromanager