How well do you sleep the night before you fire someone?
Some firings are no-brainers. For instance, an employee does something so unacceptable that dismissal was never a doubt.
But what about the other ones. You know, the employees who struggle mightily to make the cut? The ones you've been on the fence about for quite some time?
So you can lay your head on the pillow at night knowing you made the right decision, here are eight questions you absolutely need to ask yourself before you fire someone.
1) Does The Employee Know What He's Supposed To Be Doing?
One of the worst assumptions managers tend to make is that a struggling employee actually knows what he or she is supposed to be doing.
Yet we do it all the time.
Poor communication, bad advice and changing work rules can vary quickly, leaving employees adrift and unsure of their roles.
That's assuming they really knew what was expected of them in the first place.
So, when setting job expectations, try this first:
Make it clear for yourself. You can't tell others what to do if you don't really know what it is you want.
Find the gaps. What is the person not doing, or not doing enough of?
Know why. How does their job fit into the big picture? Why does it need to be done?
Once you have answered these for yourself, have the discussion with the employee. It's not a conversation you have to have all at once. You can do it over time. When you are comfortable the employee knows what to do, have them write it down so they have a document to refer back to for guidance.
2) Does This Person Actually Have The Skills To Do The Job?
You know you have come of age as a manager when you accept that people are fundamentally what they are.
You can't change them, at least not much.
Like a box of chocolates, you get what you get — a mix of skills, knowledge and talents.
A key distinction is that skills and knowledge can be taught, whereas talents cannot.
Training, both on the job or in a classroom, can greatly boost their level of knowledge. Helping them apply what they know to their jobs increases their skills.
If you know you've done all you can to boost their knowledge of the job and help them boost their skills, why are they so stuck?
You'll likely find that the employee is as frustrated as you. And so, it may be time for them to move on.
3) Is There A Motivation Problem I Can Fix?
Motivating people is a skill.
Some managers will naturally do it better than others. But every manager can – and should – do it.
Struggling employees often lack motivation.
Here are two really simple ways to help people feel vital, and to keep their heads in the game.
First, take a genuine interest in the future path of an employee's career. If you want to do wonders for an employee's attitude and motivation, show them you care about where their career is headed.
Next, take a genuine interest in their work-life balance.
When you can offer some schedule flexibility and be understanding about family commitments, doctor's appointments and so on – these small gestures will make a huge motivational difference.
4) Was There A Problem With The Onboarding Process?
Good hires come ready to work, and it's up to good companies to not let things get in the way of that.
A good onboarding process can help.
Be sure you have a program in place that focuses on the needs of new hires the first day, the first week, the first 30 days, the first 90 days, and so on as needed.
Each time frame should have specific goals for the employee, with a clear path on how to attain those goals.
5) Are My Expectations Too High?
No boss wants to be seen as a pushover.
So what often happens is, to prove themselves, managers begin to expect more and more from their people, until they finally get to the point that they simply expect too much from everyone.
You can blame the times. Everyone is doing more with less, and so why shouldn't expectations be high?
High expectations are fine.
Too high expectations help no one.
If you are a boss who expects your people to come in early, stay late, and generally dedicate their lives and souls to the company, you have a lot of company.
But you are expecting way too much.
6) Am I Rewarding The Right Behaviors?
When a good employee falters, the No. 1 reason is almost always a lack of recognition and praise for a job well done.
Recognition is not just a nice thing to do, it's a critical component in any successful management strategy.
Diligent managers take advantage of even the smallest of employee accomplishments, and use those as opportunities to encourage the employee to do that again.
So, when people are struggling, managers need to be sure they are rewarding the right behaviors.
For instance, a company that is 100% committed to quality is creating trouble for itself when it incentivizes employees to meet sales or shipping quotas even when an unacceptable number of errors or defects is going out the door.
Those employees committed to quality will grow disillusioned.
7) Have I Been Too Hands-off?
No one wants to be the boss that micromanages. But going to the opposite extreme and being too hands-off has its downsides, too.
For instance, a hands-off boss does a struggling employee no favors when the boss fails to step in to help diagnose the problem and improve performance.
Here's another example.
One of your team has just completed an important project the wrong way. Why?
Because he misunderstood the whys and wherefores, and you didn't stay in touch with him as he was working on it.
Now it's all been done wrong, he's on the verge of dismissal, and you're faced with explaining this to a displeased client.
8) Could This Person Succeed In Another Position?
Face it, it's rare to hire the perfect person for the job. Maybe even impossible.
Some experts will strongly suggest that you shouldn't even try.
Still, just like every pot has a lid, every employee has something he or she can do well, whether they know it or not.
So maybe this person didn't work out – for you!
There must have been some good qualities that got the person hired in the first place.
Can you revisit what those qualities were, and then try to determine if they fit in elsewhere in your organization?
How to Fire an Employee
When It Must Be Done
While Keeping It Respectful and Legal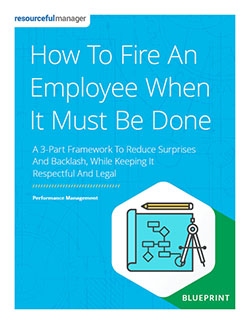 Terminations are simply part of business, but one mistake and you can find yourself in a mess. For help, check out our How to Fire an Employee When It Must Be Done Blueprint.
This 61-page, complete step-by-step guide will help you head off legal trouble, minimize the trauma for the departing employee and keep your own staff's morale up. Among the things you'll learn:
The 7 mistakes managers and companies make
The right way to do progressive discipline
How to conduct the termination meeting
What to do after the employee leaves"
How to do Performance Improvement Plans