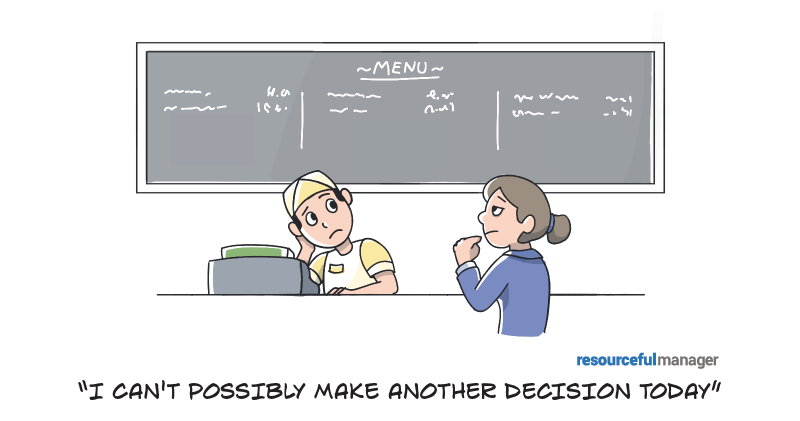 Don't you hate the regret that sinks in after you made a poor decision? It's the exact reason leaders want to make better decisions at work.
But even intelligent, well-informed leaders make bad decisions.
And we certainly can't fault anyone for that, considering people make tens of thousands of decisions each day.
Seriously, we do! Should you read this now or later? Text or email? Bacon or not? (Skip it. That could be a decision you'll regret later!)
Those mundane decisions can get exhausting. In fact, the majority of leaders say they spend almost a third of their time at work in decision-making mode, a McKinsey study found. The higher up the chain of command, the more time spent deciding stuff.
The problem comes when decision fatigue sets in. If you're fatigued when there's a big decision – Agree or negotiate? Terminate or keep? Step in or let him learn from a mistake? – all bets are off on success.
Can you prevent bad decisions – and their consequences? Probably not every one of them. But you can avoid most.
Step toward better decisions
The best way: Understand what stands in the way of good decisions. But it won't come naturally. The obstacles are often things we're blind to: biases and assumptions.
Leaders who recognize those – and move beyond them – make better decisions.
The researchers and authors behind Think Again: Why Good Leaders Make Bad Decisions identified three of the biggest obstacles to making consistently better decisions. The weird thing about each obstacle, according to Sydney Finkelstein, Andrew Campbell and Jo Whitehead: These obstacles trick us into thinking they're actually helpful, not harmful!
Here's what to watch out for, plus tips to avoid the pitfalls going forward.
Pattern recognition
Experienced leaders have seen, done and managed a lot. So when they experience something the same – or quite similar – they recognize a pattern, and often make decisions based on the previous events.
But relying too heavily on what you already know when making the next big decision can be dangerous. The situation may be the same or similar, but the circumstances never are.
Look at it this way. A manager thinks, "Oh, I remember when this happened in Q4 of 2019. I know what to do."
Ha! We don't need to remind anyone that everything has changed since then.
To avoid pattern recognition, especially when making higher-level decisions, researchers suggest you get a fresh perspective on the seemingly same old, same old. Talk with trusted colleagues who weren't involved in the past situations. Google research on the issue. Hard facts and research-drive solutions can break the cycle of pattern recognition.
Emotional tagging
As leaders, and humans in general, we attach emotions to every experience stored in our memories. You don't just see the goal you crushed; you feel the excitement. You don't just remember the bad decision; you feel the disappointment in the outcome.
Those remembered emotions impact all future decision-making, the researchers found. That's because the feelings are raw and we tend to let them toss around in our heads (and stomachs sometimes!)
To avoid emotional tagging, ask others to challenge you. Talk to colleagues and bosses who don't have an interest in the outcome of your decision. Ask them to help you separate emotions from reality.
Red flag ignorance
So we've covered patterns and emotions. Guess what they do to our brains if left unchecked? They cause us to ignore the red flags that a bad decision is about to be made.
You see, our brains don't naturally follow the textbook model of making hard decisions – lay out options, define objectives, assess options and make an objective decision. When distracted by patterns and emotions, people often look for the easiest solution.
To avoid compulsive decisions (and recognize red flags), use the 4R Test from Eric McNulty, the Director of Research at the National Preparedness Leadership Initiative: Before deciding anything, consider:
Regret. What regrets will you have if your decision is wrong? The smaller the regrets, the sooner you can act.
Repeal. How difficult is it to repeal the decision? The easier it is, the sooner you can decide.
Repercussions. Who else is affected? Take into account all the stakeholders. The more there are, the longer you want to ponder a decision.
Resilience. If you make the wrong decision, how hard will it be to bounce back to normal operations and relations? Be more thoughtful, diligent and cautious if recovery time is longer.
Lack of transparency
Sometimes good decisions come across to others as bad decisions because the process wasn't transparent. Colleagues, employees and other stakeholders didn't even know you were contemplating something that affected them.
And then, BAM! It's done and they don't like how it feels (even if it turns out to be a generally good decision).
Ideally, everyone in your organization understands how decisions are made. Even better, give everyone a guide on how to make better decisions.
Nancy Duarte, CEO of Duarte Inc., created a cool visual guide that helps leaders and employees make decisions with transparency, efficiency and in a timely way. It's based on "urgency" and "what's at stake."
To increase decision-making transparency and efficiency, try something like Duarte's tool, breaking decisions into these categories to help everyone know who can decide what and how quickly.
Decide without me. These are mostly about employees' individual roles. They should be able to decide quickly about what gets done and how.
Inform on progress. Low-risk decisions are in this category. But they're things others will want to know what's been decided.
Propose for approval. These decisions affect other people and processes. They fall outside of normal strategy and need some extra insight.
Escalate immediately. These decisions are high-risk, affect many people and overall strategy. They need immediate attention from several viewpoints.