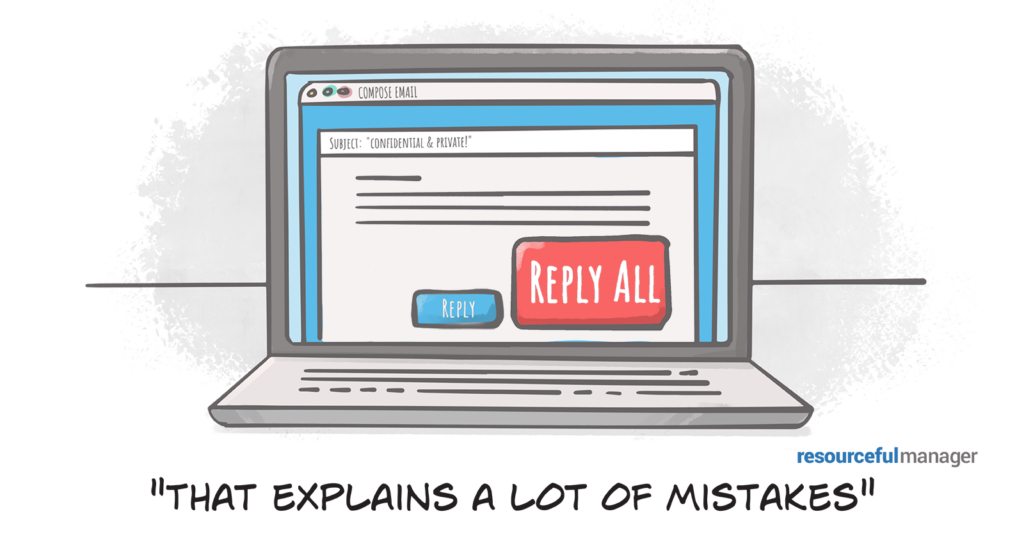 Not all communication faux pas are created equal.
Sometimes you do it and immediately regret the mistake. Other times, it takes someone else – an employee, colleague or client – to point out the trouble you just created.
Even the best managers hit "reply all," cite incorrect data during presentations or publicly support an idea that turns out to be a really bad one.
Respond fast to communication faux pas
In any case, what's most critical when we commit communication faux pas is how — and how quickly — you rebound from them.
The good news: Just about anyone can rebound from potentially damaging communication missteps, no matter how big or small.
The key is to act fast and be professional. Here's how to rebound:
1. Be the first to call it out
You may not be the first to realize a communication mistake. Oftentimes a trusted colleague, or worse, angry customer, will point it out.
But once you know it, be the first person to publicly acknowledge that something's gone wrong.
Ego aside, this can be the easiest step because you can put off announcing your corrective measure for a little bit. It can wait as long as the mistake is acknowledged and a promise to make it right is made.
2. Apologize
It sounds simple, but some leaders skip over the words, "I'm sorry." It may happen because they're quick to move on to making amends, they don't want to admit to mistakes, or they don't even recognize the mistake (but feel compelled to act because they've been called out).
For instance, when Anheuser-Busch recently sparked controversy over a branding decision, its CEO Brendan Whitworth pushed out what he called Our Responsibility to America. In it, he said, "We never intended to be part of a discussion that divides people. We are in the business of bringing people together over a beer."
It has sentiment, but not an apology. And every side of the controversy needed some reconciliation.
People who've been affected need to hear an apology so they can forgive and move forward. So say, "I'm sorry."
3. Make it even
Once you let others know what you said or wrote was wrong, you'll want to make amends in a way that is equal to the offense.
For instance, in 2018, a Starbucks manager in Philadelphia had a pair of patrons arrested in a racially biased encounter. It went viral and #boycottStarbucks was trending on socials. Then-CEO Kevin Johnson released a statement with a direct apology to the men, plus a pledge to make it even: He outlined internal actions that included a one-day shutdown of all 8,000 stores to train 175,000 employees on racial bias and how to make every customer feel like they belong.
Now, when you apologize for a mistake, suggest a solution to the infraction or an act of compensation for what's happened.
4. Be humble
Some leaders act fast and apologize, but fail to reconcile with the people who were harmed by the mistake.
Why? They aren't humble. They don't show a genuine interest in being forgiven. Yet, most people are willing to forgive those who have the character to ask for it.
Explain how the mistake negatively affected a relationship or perspective. For instance, "I'm afraid you've lost some trust in me, and I want to take steps to restore that."
5. Make the change
Words are hollow with no action – and delayed action is nearly as bad.
For instance, in 2013, then-CEO of Yahoo Marissa Mayer took criticism and lost support when she waited two months to explain publicly why she ended their work-from-home program — way before a pandemic that made remote work the norm. The failure, then delay, to communicate the reasons for the change — she felt the best ideas come from in-person collaboration — had people more up in arms than the actual change.
Once you make the mistake, acknowledge it and apologize, and act to change almost immediately. If it can't happen that quickly, you want to give daily updates on the progress.
6. Move on
Leaders who harp on the issue or continue to flog themselves will only keep it unnecessarily alive.
If you take the steps to recover, people may gossip for a bit, but will get over it as soon as the next stupid or exciting thing happens.