It can be quite a quandary. Should I delegate this task? Do it myself? Or is this something that should be automated?
This great interactive tool can help you reach the right decision.
Just plug in your task, answer the questions honestly, and you'll get your answer. Bookmark this page and use it often. Plus, check out all of our other quizzes and tools.
The Busy Manager's Guide
to Effective Delegation
Empower Your Team, Increase Productivity, Get Things Done Right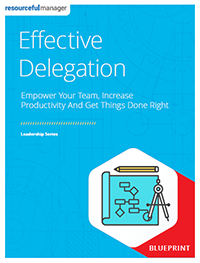 If you want to empower employees, hold them accountable and finally – LET GO … then check out our Effective Delegation Blueprint.
It's a 57-page, complete step-by-step guide to delegating without feeling like you're passing off "busy work" or being perceived as a paranoid micromanager. What you'll learn:
How to decide what to delegate, and what you shouldn't
How to select the right person to delegate to
How to give instructions so the person "gets it"
How to ensure expectations, timelines and deadlines are met
How to monitor and follow up without being a micromanager