When you manage people, sooner or later you find yourself in a situation where you need to have a conversation you'd rather not have.
In fact, more than one-third of managers admit to shrinking away from giving bad feedback when they anticipate a negative reaction.
We've all been there. A project blows up and people are pointing fingers. There's a conflict between two employees that's getting destructively personal. One of your employees dropped the ball so badly even your boss noticed.
It's definitely not the most enjoyable aspect of leadership, but difficult conversations are part of the job. So we can't avoid them.
First Rule, Don't Delay
All seasoned managers know, despite a potentially awkward confrontation, the consequences of letting an employee underperform or flout the rules can spiral into something worse.
"Whatever the incident was, you know in your gut it can't go undiscussed," says Alison Green, a contributor to BizJournals online. "But it's easy to make up reasons to avoid [the talk] – it was an isolated incident, the person knows what the problem is, someone else is going to discuss it with them, etc."
With a little twist in our approach, however, we can make those dreaded talks a lot less painful.
Change The Approach
How we present ourselves during difficult conversations can make them not only go more smoothly but also make them more effective.
What works is to take the emotion out of the conversation. Hard talks are loaded with at least a little drama, so being as objective as possible makes them go more smoothly.
Try these approaches for your different roles to switch up difficult conversations and keep the heat down:
With A Peer: Be A Concerned Teammate
For example, an employee tells you a manager in another department is purposely sabotaging a project she's leading.
While you're not sure what the manager may or may not actually have done – or even what his motivations might be – this employee vows to take her concerns up the ladder until "something is done."
Since you're friendly with the other manager, you want to give him a heads-up before things start to spiral out of control. Ideally, do this in a supportive environment – say on a lunch break or during a mid-afternoon walk – so the conversation can begin a bit more relaxed.
This approach signals that you're not taking a side, not jumping to conclusions. Be sure to relay only what you were told without inserting personal comments or gossip.
There may be denial and some pushback. But the fact is you're a peer and not a boss. You hold no power or authority over this person.
You're talking as a concerned colleague to give him a chance to see the situation as it develops, and perhaps make the best adjustments.
With A Superior: Be A Trusted Lieutenant
Sometimes you must have a difficult conversation with a superior, and those may be even more stressful if you think the person won't react well to what you have to say.
It's normal to think that if they don't react well to the conversation, it may hurt your career.
In such cases, always remember you work for the organization, not your bosses, and your first duty is to the company.
Also, keep in mind that if you were the boss, and there was a potentially bad situation you weren't aware of, you'd likely want an employee to bring it to your attention.
It's a good idea to open with just that thought when you have the conversation. Then come right out with it. Limit yourself to facts or concrete observations, nor rumor or conjecture.
By treating your boss in the way you'd want to be treated, you show loyalty and trustworthiness. The more open and honest you are, the less likely your boss will want to choke the messenger – he or she may even thank you.
With Your Employees: Be An Objective Mediator
Some difficult conversations involve playing peacemaker between your direct reports and other co-workers.
Emotions are probably running high by the time you hear about the problem, so you know going in the discussion could get testy.
In those situations, you're better off meeting with both sides separately before getting them in the same room to hammer out an agreement. Listen to everyone involved and try to see their point of view, even if you disagree with it.
Find points that both sides can agree on, then assemble everyone together. Rather than ending unpleasantly, the conversation could inspire both parties to adopt your consensus-building attitude.
Remember, the reason why some conversations are so difficult is that you're dealing with others' conflicting opinions, ideas and emotions. It pays to tailor your approach from one of judgment to one of support.
Difficult Conversations With Employees
A Proven Framework That Works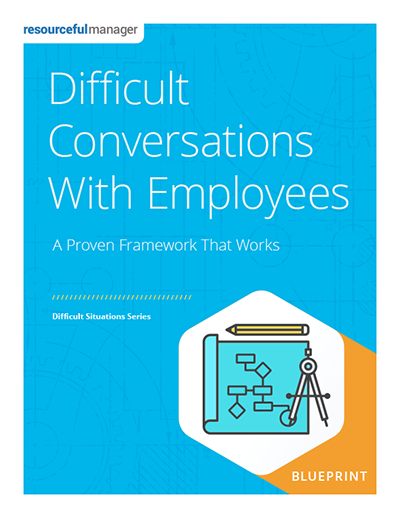 If you are frustrated by difficult people and stressed at the thought of having an awkward, but necessary, "high stakes" conversation, then check out our Difficult Conversations With Employees Blueprint.
It's a complete step-by-step guide to how to have one of those difficult conversations you dread so much. What you'll learn:
27 scripts of what to way in the toughest difficult conversations
5 irrefutable facts that cause us to avoid difficult conversations
#1 mistake people make opening the conversation
How to tell your side of the story in a way that is accepted and not perceived as a personal attack
25 things never to say during a difficult conversation