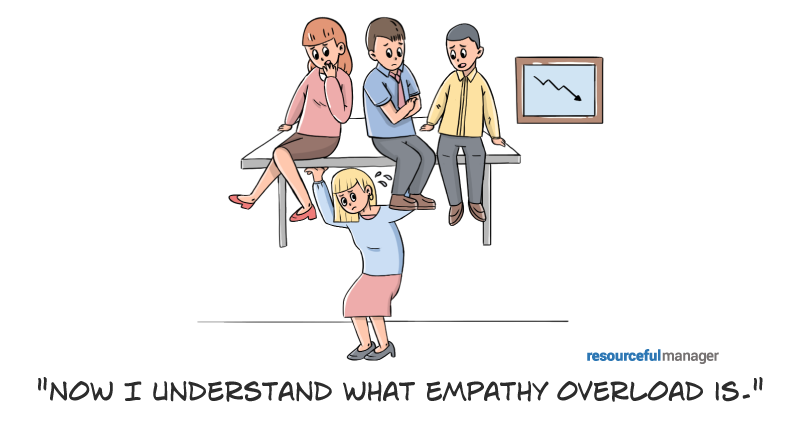 Empathetic leadership: Often heralded. Less often successful.
After years of hearing that empathy is a leader's best tool, it's probably not the most practical tool these days.
The empathetic leader is supposed to have a genuine interest in employees' (and colleagues') lives, challenges and feelings, plus understand their needs and be aware of their feelings. That's a tall order!
And that's why many leaders in the workplace have felt pressured to fake the high-level empathy that's often reserved for close friends and beloved family members.
Here's the gist of it: "Though empathy is essential to leading and managing others – without it, you'll make disastrous decisions and forfeit the benefits just described – failing to recognize its limits can impair individual and organizational performance," says Adam Waytz, a professor and psychologist at Northwestern University's Kellogg School of Management and author of The Power of Human: How Our Shared Humanity Can Help Us Create a Better World.
Problems with empathetic leadership
The three biggest problems with empathetic leadership arise when leaders are excessively empathetic. And that has happened more in the past two years as managers were tasked with helping employees through everything.
Waytz found empathetic leadership now is:
Exhausting. Empathy requires a lot of mental resources – identifying feelings, relating and responding to emotional needs. That can lead to "compassion fatigue," which is practically the exact opposite of empathy: You can't relate because you're stressed and distracted.
A zero-sum game. Nearly everyone has an empathy limit. So if a few employees demand all the empathy you're capable of giving, others will get none. Bias is an issue here, too. Almost everyone will tend to empathize with colleagues who are more like them – after all, empathy is all about relating over shared or similar circumstances. So leaders will have less empathy left for employees who are less like them.
Walking the line. Waytz and other researchers found the pursuit of empathy can lead to lapses in ethical behavior. When leaders try to see and feel things the way their employees do, they take on others' interests. And sometimes those interests – for instance, implicating a colleague, downplaying a morale lapse or hiding an illegal action – are unethical and hidden in clear sight.
Better ways to lead now
There's no textbook way to lead. That's because organizations, cultures, teams and individuals differ. They need different things at different times – from empathy to indifference, democracy to authority, oversight to autonomy.
Much of managing revolves around tuning into employees then directing them to the resources they need, rather than trying to be the empathetic end-all.
"Some tactics leaders can utilize to prevent issues include creating a psychologically safe workplace where employees feel comfortable advocating for their needs, offering employee coaching programs to help individuals create their best lives, and encouraging associates to set healthy boundaries that establish work-life harmony," says Rod McDermott, CEO of Activate 180. "After all, if you prioritize the wellness of your people, they will be happier and show up stronger."
More authentic, effective leadership comes from a combination of compassion, pragmatism and a little humility. Here's how to make each a larger part of your leadership approach:
Compassion. In one research analysis, compassion is a step beyond empathy. You can tell employees you feel with them (empathy), but with compassion you find what you can do to support the employee. When you lead with compassion, you react with intention, not just emotion. This isn't to say you need to solve employees' problems. But you direct them toward the next steps. Often, the best way to show compassion is to simply ask employees, "What do you need?"
Pragmatism. You can't run a department, team or company by observing, consuming and reacting to employees' emotions all the time (as empathy often calls for). Work has to get done – and you don't have to be a drill sergeant to get it done. But pragmatism depends on becoming a better listener. When you listen closely to issues, you can help resolve them better. Confirm you understand issues. Then listen to employees to be certain they understand the next steps and their roles.
Humility. The best leaders don't take themselves too seriously. They don't expect to be right all the time – but they're scholars on where to find more information. And when they make mistakes, they own up to them, making sure employees see where they were wrong and how they remedied (or learned from) it.