So, after much consideration and hand-wringing, you've finally decided you have no choice but to terminate that misfit-of-an-employee who just never seemed to catch on … to anything … ever … no matter how hard you tried.
The training didn't take. The pep talks fell on deaf ears. The performance improvement plan sputtered — and failed. Now, you're out of tricks.
But, pro that you are, you're well-prepared for that difficult final meeting:
Both HR and the employee's supervisor invited – CHECK
Employee's personnel file on hand – CHECK
Paperwork for severance, unemployment and related issues – CHECK
What could possibly go wrong?
Lots of stuff.
So when you fire someone, brace yourself for one or more of these 11 scenarios.
1) The Dismissed Employee Has Trashed His Cubicle
Such harsh reactions are rare, but are a good reminder that some level of security monitoring is necessary. Hopefully you don't need armed guards, but make sure someone is at least checking what the employee is up to before he checks out.
2) The Employee Walks Off With His Security Swipe Card
This happens quite frequently, so be sure your IT or HR people quickly get around to deactivating any key codes.
3) The Employee Sabotaged His Computer
He may not have accomplished much in the past month, but it took him less than an hour to steal, hide and/or delete valuable files and information. (And he had enough time to badmouth the company on LinkedIn while he was at it.)
4) The Employee Throws A Tirade In Front Of Other Employees
You escorted him out, or at least patiently waited for him to leave, and all was quiet – until he got to his car. Now he's gathering an audience in the parking lot and is getting louder by the minute. Letting him rant for a few minutes is a OK. But it is your property, and you have every right to ask him to leave promptly.
5) You Informed The Employee Of His Firing Too Early In The Day
Graciously, you gave him the rest of the day to "wrap things up." He's now spending that time online shopping or otherwise wasting company resources.
6) The Employee Somehow Gets The News Before You Tell Him
He either storms into your office to demand an explanation, or he's MIA by the time you were supposed to meet.
7) The Employee Leaves Too Fast
You can't find any trace of the work he was doing for a key project. Calling him at home seems absurd at this point, right?
8) The Employee Won't Face Reality
He really, really wants to know what he did wrong, or does a line-by-line critique of your reasoning. To prevent him dragging the meeting out beyond what's bearable, stick to the key points: You are permanently dismissed, and here is the information you need to move on.
9) The Employee Steers The Meeting Into A Therapy Session
He goes from denial to anger to confusion to despair in rapid succession, then asks for advice on finding a new job. It's OK to offer a suggestion or two, but again, keep to the specifics of the termination process.
10) You Forgot To Check The Calendar
The day you chose to fire the employee is also his fifth-year anniversary and a cake party was planned (I've actually witnessed this happen). Never be careless about timing; it's probably the most important detail to get right when letting an employee go.
11) The Employee Refuses To Leave
You've had your meeting and let the employee go back to his desk to pack up and say goodbye to some co-workers. You figure he's out the door any minute – but no one's noticed he stuck around the office until 5 p.m. Always be clear to fired employees what their next steps are, but be respectful. However, if the employee digs his heels in, you could be facing a tougher situation. Tread carefully, but be prepared to dial 911 if needed.
How to Fire an Employee
When It Must Be Done
While Keeping It Respectful and Legal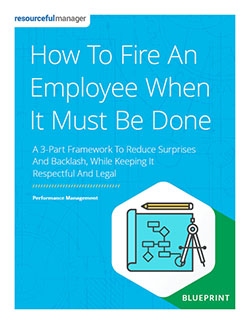 Terminations are simply part of business, but one mistake and you can find yourself in a mess. For help, check out our How to Fire an Employee When It Must Be Done Blueprint.
This 61-page, complete step-by-step guide will help you head off legal trouble, minimize the trauma for the departing employee and keep your own staff's morale up. Among the things you'll learn:
The 7 mistakes managers and companies make
The right way to do progressive discipline
How to conduct the termination meeting
What to do after the employee leaves"
How to do Performance Improvement Plans