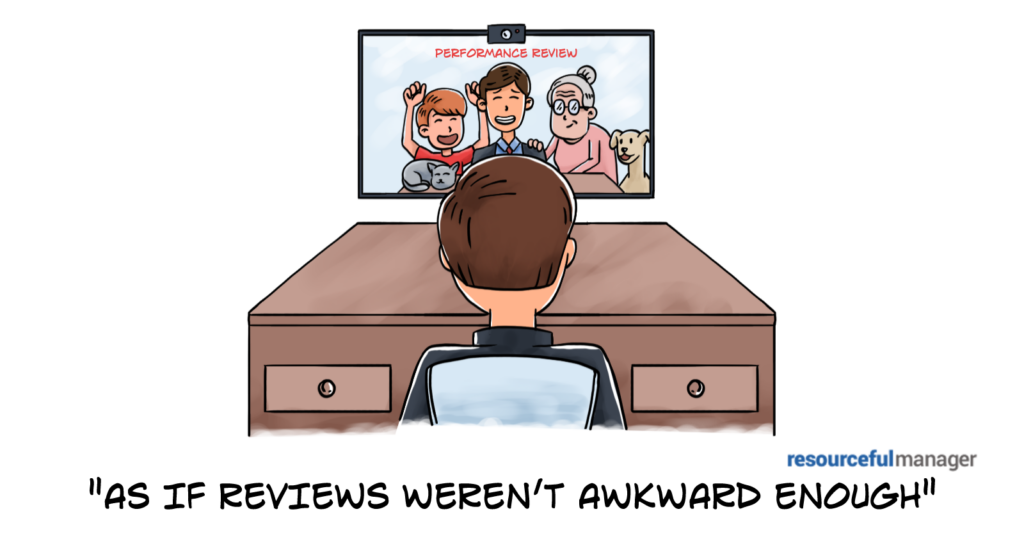 The future of employee feedback is here – and you probably aren't going to like it.
But, being the great leader you are, you'll likely learn to embrace and excel at it.
It'll be mission critical for HR pros and front-line managers because there's a growing population of hybrid workers. In fact, almost 60% of employees can work remotely at least one day a week, according to research from McKinsey.
And if you're thinking, "No way – my employees will never be hybrid," think again. That figure covers all kinds of jobs, in every part of the country, in nearly all sectors of the economy, and includes traditionally blue collar jobs.
Nearly every manager will need to give feedback to employees who aren't always onsite.
And who are we kidding? Employee feedback is already awkward. Make it hybrid, and it could be worse.
"With fewer face-to-face encounters, feedback conversations can seem more awkward than ever," says Carolyn Stern, CEO of EI Experience, and author of The Emotionally Strong Leader.
So the future of employee feedback is here. Here are six tips to help you get ready so employees get the most out of it.
Measure remote abilities
Naturally, you want to cover how well employees handle their job duties. Now, add to that, how well employees handle working remotely. If they're going to be hybrid, you want to establish expectations and measurements for managing remote work responsibilities.
So make time and place to cover:
technology use
managing more than one workspace
transitioning from place to place
availability when offsite
interaction onsite, and
the balance of productivity between workspaces.
At the same time, find out if employees have the resources they need to make the hybrid work situation efficient.
Plan to be spontaneous
Plan several feedback sessions throughout the year (annual reviews are a thing of the past). But be prepared and willing to give feedback any time.
"It is not necessary to wait until an employee's next performance review to schedule a meeting. If a manager has feedback that will help an employee, share it," says Stern.
Point is, if you have feedback that'll help employees do their jobs better – or stop doing something that inhibits their performance – then give it immediately. And because you're dealing with hybrid work, step into a meeting space onsite or get on a video call when you're off premises.
Practice the SBI Model
One way to ensure you're always ready to give effective employee feedback: Follow the SBI Model – that's for Situation-Behavior-Impact.
You pick a specific moment, an isolated behavior and how it impacts productivity or relationships. Here's an example:
Situation: Be specific about where and when. "I noticed in this morning's meeting …"
Behavior: Describe the behavior, not what you or the employee might have been thinking. "… you interrupted Jenny three times while she had the floor."
Impact: Identify the specific result of the behavior and include a feeling. "That's frustrating for me, not being able to hear what she has to say, and it's frustrating for speakers to not be able to finish their thoughts."
From there, you can ask the employee for feedback on ways to improve the situation.
Check your intent
Regardless of when or where you give feedback, the purpose is to help employees improve performance. It's time to check anger, disappointment and judgment at the door.
So, test your emotions before you move forward on planned or impromptu feedback. Are you thinking about venting or coaching? Do you want to criticize or help? Are you angry or concerned?
Act on the latter of each choice. Pause if you feel the former of each choice.
Focus on action
Because you don't see people who are hybrid as much – and perhaps because you work different schedules, too – action and follow-up are even more critical in the future of employee feedback.
Be specific with action-oriented language. For instance, "You'll want to do X going forward" or "Taking this approach will produce immediate results. First, you'll need to …"
From there, put the actions that employees and you will take following the feedback session in writing. You might send an email and get written agreement to the exact next steps, when you'll review progress and the expected outcomes.
Make time for positive feedback
The old feedback sandwich approach isn't ideal anymore. Employees hear two positive notes (the bread) and one negative note (the meat), and they'll remember the good stuff. And never improve the bad stuff.
But this doesn't mean you want to skip positive feedback, especially in a hybrid work setting where feedback can happen too seldom.
Just separate the two. When you have feedback that's focused on making improvements or changes, give it alone. When you have positive feedback, give it immediately, in person (via video, if one of you is remote) and with purpose.