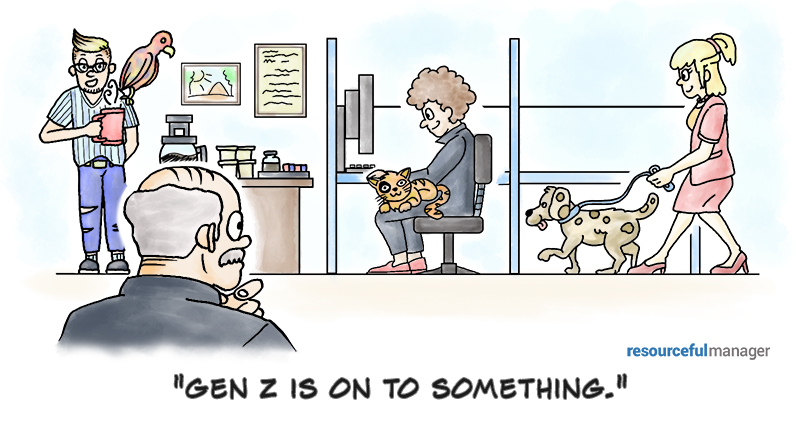 Gen Z is the worst to work with.
Sorry to those of you born between 1995 and 2010, but researchers found Gen Z is a thorn in the side of many.
Almost 75% of managers and business leaders say Gen Z is more difficult to work with than other generations, ResumeBuilder researchers found. And a third of managers say they've more commonly needed to fire a Gen Zer than other generations.
Problems with Gen Z
What are the biggest issues? Survey respondents complained Gen Z lacked technological skills, effort and motivation. More specifically: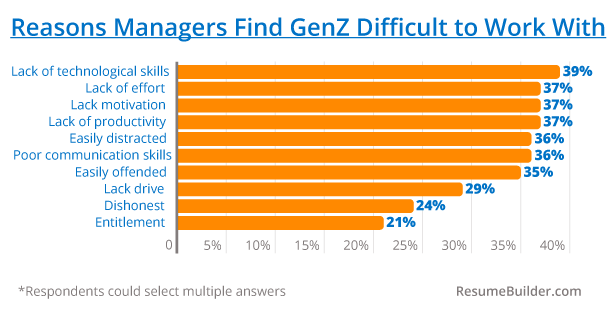 Sure, these are real issues in any workplace. But they're probably the same complaints veteran employees had when each new generation entered the workforce from the beginning of time!
So, that's why we should cut them some slack.
Remember where Gen Z came from
"As a result of COVID-19 and remote education, it's possible that Gen Zers lack the foundation to be more successful than older generations in entry-level positions," says Stacie Haller, Chief Career Advisor at ResumeBuilder.com.
Savvy managers want to help Gen Z get it right in the workplace. It's good for you, too: Investing in any employees' success pays off in higher quality work and engagement.
"Gen Z needs to work to understand what professional skills are needed to succeed in today's workforce. However, the responsibility goes beyond Gen Z," says Haller. "Managers and business leaders need to learn to work with Gen Z. Bias against younger workers is unacceptable and no different than the ageism that we typically see against Baby Boomers."
Here are the top issues Gen Z faces – and tips to help them succeed:
Technological skills
How can the youngest generation at work — that's had devices at their fingertips all their lives — not have the best technological skills, much less a lack of them? I wondered that immediately when I read the study results. Then I delved deeper and understood the disconnect: Gen Z knows how to use technology, but they don't know how to apply it to work as well.
Help: First, older generations (myself included) need to recognize that this generation is not inherently better at technology than other generations at work. So, they need your tech training immediately — and include detailed instructions on how it applies to their work.
Motivation
While we want the work and company culture to motivate Gen Zers, those alone won't always fit the bill. They often have different motivations for doing what they do — and showing up for work.
Help: When TollFreeForwarding did an employee retention survey, HR experts shared these unique requests the younger generations at work had made (and are good ideas to consider):
benefits that include tuition and student loan reimbursement
paid time-off for volunteer work
electric vehicles incentives
extra vacation days for carbon-friendly travel instead of flying
a four-day work week to allow time for family and self-care and reduce commuting emmissions
Bring Your Pet To Work Day, and
flexible schedules that might include reduced summer hours.
Communication skills
Going back to the years spent isolated because of COVID-19, and possibly the availability of socialization on devices, some of Gen Z struggles with communication and professional skills.
"We know that with remote work and education, communication skills do not develop as well, and people tend to work more independently," says Haller. "This generation may need more training when it comes to professional skills."
Help: Set up mentor programs so new employees will be able to interact — and learn from — veteran employees who have practiced communication and professional skills. They don't want to preach, "This is how to act," but they can lead by example.
Attention
One of the complaints about Gen Z was their tendency to be distracted. That possibly goes back to a lifetime of devices that kept them distracted. Now they're used to looking for something new the moment they're bored.
Help: You might introduce them to the Deep Work concept. On a lesser level, try device-free meetings. Organize interactive activities such as lunchtime walks, Employee Resource Group events and group work sessions so they're involved longer with people and projects they enjoy.
Adaptability
Some managers find Gen Z employees aren't as adaptable as others. Part of that likely has to do with their inexperience. They haven't had many jobs and haven't been introduced to a variety of tasks and responsibilities.
You don't want to pigeonhole them any further.
Help: As your business and needs change, pull them along. Ask and train them to adapt to new tasks in emerging areas. Invite them into new situations and suggest they try different challenges. If they aren't interested in the change, then it might not be a good fit. But Gen Zers who are adaptable will become more engaged and productive.