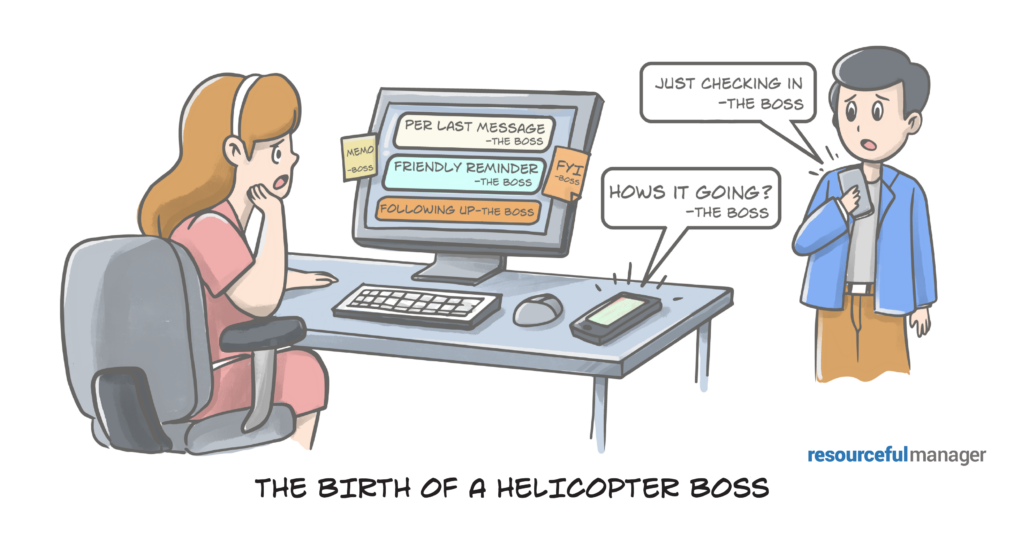 Wish your employees would get more done? Faster? And better?
Then you might want to stop bugging them about getting more done. Faster. And better.
Employees suffer from over-surveillance. Proof: The demand for employee monitoring software jumped by 65% in the pandemic years, according to an analysis by The Washington Post.
But software that checks how many emails they send, Zoom meetings they attend or minutes they're logged in doesn't tend to be the biggest issue.
Why they really don't get more done
Nope, it's usually the overzealous boss who checks in too often, sends too many messages and asks too many questions.
It hinders – rather than helps – productivity. And that can take a serious toll, considering the average employee is productive for 60% of the workday, and office employees are only good for about 30% of their day, according to research from Zippia.
OK, in all fairness, some other things sidetrack employees. The other top distractions revealed in the Zippia research: Checking social media, reading online content, chatting with co-workers, preparing or eating food, and texting.
You might not be able to curb those, but you can stop distracting employees.
Are you that boss?
First things first: Figure out if you're a boss who distracts employees from getting more done.
Nir Eyal, a former Stanford lecturer and author of Indistractable: How to Control Your Attention and Choose Your Life, suggests in his research that leaders ask themselves these questions:
Do you expect near-immediate responses to your messages?
Do you ask for regular status updates?
Do you send "just wanted to make sure you saw my last email" emails?
Do you plan check-ins with just your schedule in mind and don't consider employee's time and needs?
Do you plan brainstorming sessions with no agenda?
If you answered yes to any of these questions, you might be that boss – the one who gets in the way!
Here's how to get out of the way and help your people get more done:
Take one for the team
Employees won't talk about distractions – and, in particular, about you being the leading distraction – if you don't open it up for conversation.
Bosses have to give employees a psychologically safe place to talk about it, though. That means, you have to tell and prove to them that there are no repercussions for calling you out.
You might open the conversation with a story about a time you felt distracted from your work (without pointing fingers at a specific colleague or boss). Then ask employees:
What do I do that distracts you from your work?
Have I ever delayed you from getting work done?, and/or
How often do I stand in the way of you accomplishing your goals?
Sync up
The more you understand how your employees work, the less likely you'll distract them, especially during their most productive or focused points in the day.
That's why it's important for bosses to spend some time learning how employees spend their time. You might ask them to estimate how long it takes to get a project or recurring assignment done. Also ask them to give an informal rundown of the hours they work, identifying when they're most likely responding to email, concentrating on pressing tasks, laying the roadwork for the next job, and meeting and/or talking with co-workers.
Then, give them your calendar – either open it electronically so they can schedule time with you, or give them a rundown of your time like theirs.
Once you both understand how you use – and value – your time, you'll more likely connect at good times, rather than at distracting times.
Sack agenda-less meetings
Nothing wastes people's time more than unnecessary meetings. The worst are those without agendas – often just titled "brainstorming." When there's no concrete goal, people are even more likely to talk about nothing and go nowhere.
If you call these types of meetings, you distract employees from doing their work. As a leader, you want to weed out senseless meetings and time suckers.
So, never, ever, ever schedule a meeting without a start and end time, agenda and one or two concrete goals. Avoid, saying "One more thing …" when the meeting is scheduled to close. When it's over, let people get back to work.
Try productivity analysis – and action
There are plenty of techie tools and vendors that can do in-depth a productivity analysis – collect and analyze data to find ways to improve productivity. But you can likely do a low-tech, practical analysis that'll help everyone respect each other's time and become more productive.
Ask everyone to identify:
valuable v. nonvaluable work
worthwhile v. worthless meetings
opportunities to reduce or eliminate processes and/or costs, and
ideas to perform tasks more efficiently.
With that you can likely eliminate non-valuable work, and give employees more time and resources to get more done.