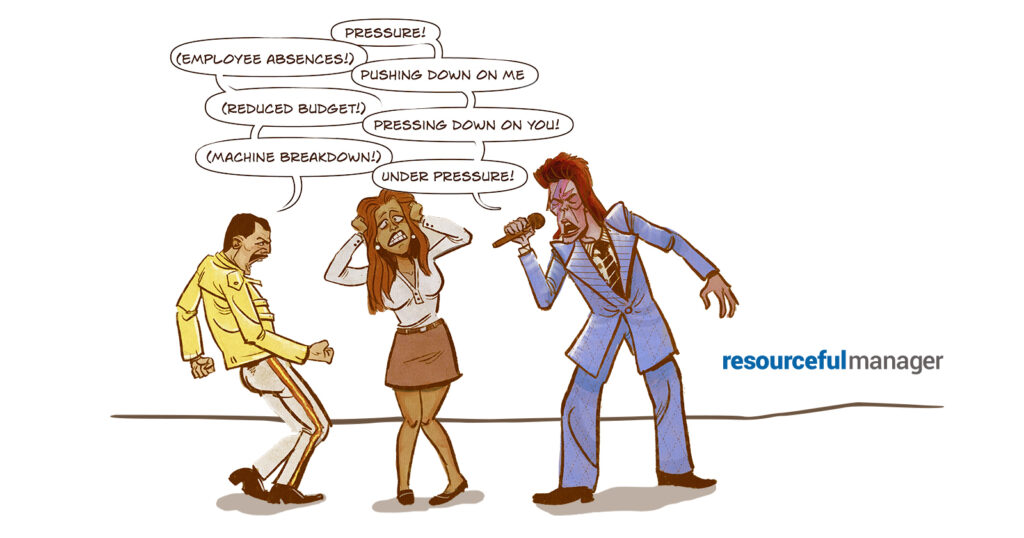 Got Stress?
Of course, you do. You're a manager — as well as a human being living in the 2000s.
Stress is kind of our thing.
But that doesn't mean you have to take it lying down (although, the lying down part does sound enticing on some days).
For reference, this is how bad stress has become in the workplace:
Think you got stress?
"We have to be able to reduce stress where possible so we can achieve a high level of performance, while also acknowledging that some level of stress can be a good thing," says Kim "KC" Campbell, author of Flying in the Face of Fear. "It's a balancing act."
And Campbell has some serious street cred when it comes to facing — and knocking down — stress. She's a former Air Force fighter pilot who flew more than 100 combat missions. (IMHO, she's a badass!)
"Fighter pilot culture is unique. We spend our lives working in a high-stakes environment, where we have to make split-second decisions to survive, and where training missions can be just as dangerous as actual combat," Campbell says.
So she knows a few things about dealing with stress in the workplace. Here, she shares five tips on handling it before it handles you.
1. Bring in a wingman
In a military mission, wingmen (and women, for that matter), look out for threats to the formation. While the pilot is focused on everything forward — the target, navigation and obstacles — the wingman primarily focuses on what the lead can't see — what's behind or below.
"You can cultivate a wingman culture on your team by ensuring that team members understand the role they play on the team and where they fit into the bigger picture," says Campbell. "This means communicating to team members how the work they're doing is critical to shared success and how it contributes to overall goals and objectives."
Shared responsibility helps reduce stress for everyone.
Even better: Give incentives to people who look out for teammates, support others and jump in when colleagues feel overwhelmed.
"Foster a mentality that lifting others helps elevate the performance of the team," says Campbell.
2. Aviate, navigate, communicate
What contributes most to stress? Competing priorities. Most managers have too much on their plates, and figuring out what to attack next is about as stressful as the actual battle.
"'Aviate, navigate, and communicate' is a simple phrase we learn early in pilot training that helps us through demanding situations," says Campbell. "When we face an emergency, we learn to slow down and focus on what's most important first: maintaining control of the airplane."
Once they aviate, they gain situational awareness to figure out where they go next — navigate. From there, they communicate to let others know about the problem and, if required, get help from the wingmen or others.
Bottom line: When you and your employees understand the top priority, everyone can handle an emergency with less stress because they know where to focus their immediate energies.
3. Be the calm others need
Sometimes the best way to beat stress — and help employees through it — is to do little more than step back and stay calm.
"Teams want leaders who are consistent and remain calm and composed, even under stress," says Campbell. "Sometimes in all the chaos, our best immediate reaction as a leader is to do nothing. Not every situation requires an immediate reaction. Most of the time we can stop, breathe, and take the time to think about how we will respond."
In stressful situations, tell employees what you know and reiterate your confidence in everyone's ability to endure temporary difficult times.
"Our team wants to know they can count on us during tough times. They will be watching to see how we respond," says Campbell.
4. Be a control freak
OK, this isn't the advice you would think the No. 4 headline suggests. When stressed and facing difficult situations, focus on what you can control — not on controlling everything.
"There are things in life we can control, things we can influence, and things which we can't control or influence," says Campbell. "Don't waste time or mental energy on the things you can't control because this generally results in increased stress levels."
It's important to help employees recognize what they control — always their response to stress-inducing situations — so they can help keep your workplace stress levels reasonable. When they come to you with issues, help them identify what they can control and then work on solutions from the ground level.
5. Recognize the stress sources
Stress can spread like wildfire on a team. Leaders want to recognize and support stressed out or burned out employees quickly to 1) help them, and 2) prevent the spread of stress.
"In a fighter squadron, we did this by conducting an operational risk management assessment before each mission we flew," says Campbell. "Were we up to the task that day? What external factors were playing a role in our overall well-being? Could we safely accomplish the mission?"
You can do the same with regular check-ins, walking around and talking to team members (if you're in the office) or calling a weekly Zoom. Ask:
What pain points do they have?
Where can we help alleviate stress?, and
What resources are available to help?
Then you can take steps to get them the help they need to recharge or realign.