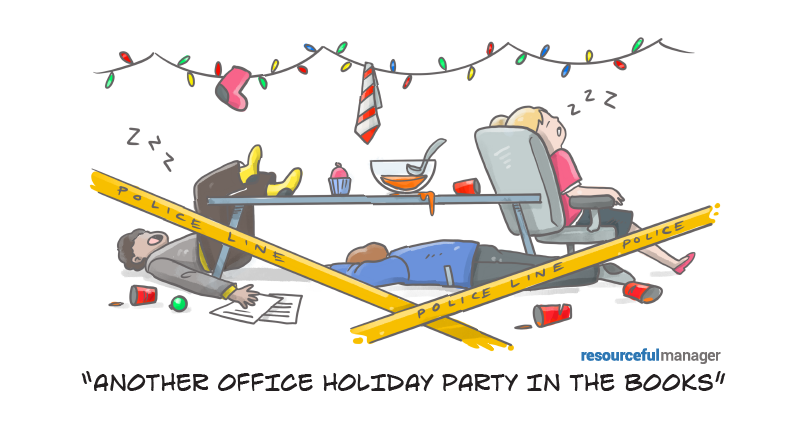 With the number of office holiday party mistakes that could happen, it's a wonder companies host events.
At the same time, many of us love a good party – and the possibility of witnessing what could go wrong!
And if there was ever a year to worry about holiday party mistakes, this is it. The office holiday party is set to make a comeback after a two-year-pandemic hiatus.
But HR leaders and front-line managers usually want to maintain some control over the celebrating so it's cheerful, safe and appropriate. And you want to avoid embarrassment, conflict, regret and all the potential negatives.
Here are the biggest holiday party mistakes – and how leaders and managers can avert them:
Overindulgence
People often do dumb things at office holiday parties when they've had too much alcohol to drink. Yet about 45% of the people feel the office party is the place for drinking, according to a survey from Price4Limo. Nearly a quarter admit they've been drunk at a company holiday party.
Leaders have a difficult enough time controlling employees' behavior in the workplace when no one is under any influence. It can only be worse in a social environment where alcohol is present.
While it might not be your call – or desire – to exclude alcohol, you might want to make the case for limiting it. For instance, some companies offer a few drink tickets to each employee and limit the time the bar is open. A more popular option these days: holiday luncheons without booze and everyone heads home early.
Fancy feet, misplaced affection
Dancing has gotten more than one employee in a pickle at holiday parties. About 30% have danced with colleagues, clients and/or bosses at holiday parties – many of them regretting it the next day, the survey found.
Some holiday parties lead to overly friendly behavior. About 12% of employees admit they've made the holiday party mistake of flirting with, kissing or hooking up with a colleague, client or boss!
Alcohol consumption often leads to these two major office party mistakes. Even worse, they can lead to harassment reports and legal issues – both of which you want to avoid.
So this is likely more incentive to limit access to alcohol. Also important, make sure there are plenty of non-alcoholic options available throughout your celebrations.
Exclusion
Leaders normally want everyone to feel welcomed and included in office events. Yet, some make the mistake of exclusion by focusing on one holiday (that usually being Christmas).
To avoid the exclusion mistake:
Choose a generic holiday or winter theme with a variety of décor, games, food, and drinks – or don't theme your activities or food offerings at all
Choose a venue that's accessible to guests with physical or neurological differences
Plan the party for work hours so employees with caretaking responsibilities can participate, and
Make announcements and play music in languages other than English if employees use multiple languages.
Not showing up or appreciation
Office party foul for leaders: Forgetting what it's all about – and that's your employees.
"The holidays are first and foremost about showing appreciation to your employees," says Mark Wachen, CEO and Founder of CardSnacks. "You can use this time as an opportunity to reinforce company culture and show your recognition and appreciation for everyone on your team."
Leaders want to show up, interact and spend time with employees – proving you're vested in the company as much as you want them to be.
"By taking the time to speak, laugh and enjoy quality time with employees, they will see you as a real person and not just a figurehead. You can also use this time as an opportunity to reinforce company culture and show your recognition and appreciation for everyone on your team," says Wachen.
Gossiping, trash talking
Almost a quarter of employees in the Price4Limo survey admitted they've gossiped or talked badly about others at their holiday office party – not exactly the way to make friends or get promotions. In fact, feeding the rumor mill or dissing colleagues often lead to strained relationships or reprimands.
Again, leaders can't monitor everyone's behavior at the office party. But you can keep them too busy to badmouth each other. Try games.
"Break down silos and create sticky moments," says Matt Hendricks, principal at Hanabi Holdings, which owns and operates Thirsty Dice Board Game Cafe and Twenty One Pips Kitchen & Game. "It has a real impact in how people treat each other in the office by keeping the focus on a shared goal and less on alcohol and the potential liabilities associated with over consumption."
A few he recommends: