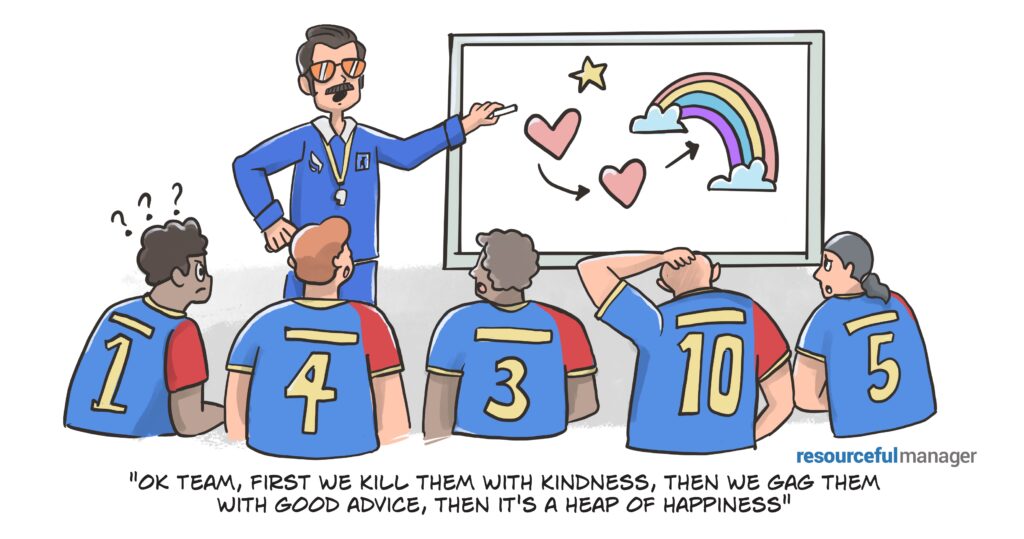 Leadership experts — not to mention, optimists and English football fans — think Ted Lasso is a godsend.
He's a charismatic, lovable character and empathetic leader. But there are plenty of reasons you shouldn't lead like Ted Lasso, the affable American-football-coach-turned-English-Premier-League-Manager in the mini-series of his name.
Ted Lasso, his leadership team, and their workplace — a soccer club, its locker room, offices and field — are fun and fictional. But they don't exactly replicate a typical workplace. So he can try management tricks — and the writers can make it look like they're the best way to lead — that real-life leaders can't easily put into play.
While his witty words and laid-back style make him look like the perfect boss, he has some issues.
But everyone says you MUST lead like Ted Lasso!
Full disclosure: I LOVE Ted Lasso. The character and show make me happy for days after I watch an episode. So it pains me a bit to throw any criticism toward Ted and company, but some is due.
Ted Lasso's leadership is usually marred when his good traits are done to excess. And that can backfire, according to research in Current Directions in Psychological Science. For instance, managers with a high degree of people-pleasing become pushovers. Employees who have a high level of agreeability tend to make less money and aren't considered creative.
"Ted Lasso is undoubtedly one of the most inspirational characters ever created for television, an eternal optimist who believes in transformational leadership," says Corey Andrew Powell, pop-culture commentator and marketing content manager at The National Society of Leadership and Success. "However, I also feel he negligently believes in locker room celebrations for his team in times of significant defeat on the field."
That's just one. And while everyone else screams, "You MUST lead like Ted Lasso!" here are 10 problems with Lasso leadership (and tips on how they apply to the real workplace):
Issue 1: Ted ignores defeat
Ever the optimist, Ted Lasso glosses over losses.
"This trait is potentially problematic, similar to the notion of everyone gets a trophy just for showing up," says Powell. "It's constructive to acknowledge people for their efforts, but within reason. In real life, not everyone gets a 'participation trophy.' No pun intended — the playing field is not always level and fair, and 'winners' are not always the most talented, skilled, or even deserving. That may not be fair, but that's life."
In the real workplace: You don't need to harp on losses and failures, but you want to help employees recognize lessons learned from them.
Issue 2: Ted's too nice
Ted is extremely kind and generous to everyone he works with, regardless of their position. He takes interest in their work and lives. He sometimes does it to his own detriment, making others see him as soft and indecisive. He struggles with decisions that negatively affect others, sometimes keeping people in roles they shouldn't be in.
In the real workplace: To Ted's credit, he treats everyone with dignity and respect. Every leader wants to emulate that. But know where and when to draw lines. The best leaders need to make tough decisions, and if you try to please everyone all the time, you will make wrong decisions. Focus on the greater good. When someone is affected negatively by a decision, you can at least try to move them in a new, better direction.
Issue 3: Ted doesn't know his game
Coach Beard is constantly reading to understand the game (remember, he and Ted came from an American football background) and researching ways for the team to play their game better. Ted Lasso often asks Coach Beard basic questions about the game, its rules and how it's played. Coach Beard is also Ted's resource for cultural cues.
To his credit, "Ted seems willing to admit fault and when he does not know something. He has no savior complex, meaning he will give someone else the spotlight and opportunity to shine if the situation presents itself," says Powell.
In the real workplace: Know your business. You don't need to know the minute details of every employee's job, but you want to know how people and processes interact so you always have a handle on the best way to manage. Ask employees if there's something they feel you don't understand about their jobs and how you can learn more.
Issue 4: Ted over promotes
Ted Lasso usually leads with his heart — and it burned him severely — when it comes to promoting employees. While his decision to bench Roy Kent, then hire him as a coach, is still panning out (in a positive way), he was hasty with another. Ted promoted Nate Shelley from kit man — that's British for equipment manager — to assistant coach. And a monster was born. Nate's quick rise to fame turned him into a power-hungry traitor — and left Ted without an assistant coach.
This is a classic management issue: We promote good employees to leadership roles without training them to manage people, processes and themselves.
In the real workplace: You might prevent big egos and defiance like Nate's with more mentoring and soft-skill training to help new managers handle the pressures that come with leadership.
Issue 5: Ted relies too much on belief
Ted Lasso believes his team can rise above every obstacle. And he wants his team to believe in that belief. To emphasize that point, he wrote and taped a simple sign that says "Believe" above a locker room door, encouraging everyone to tap it for inspiration.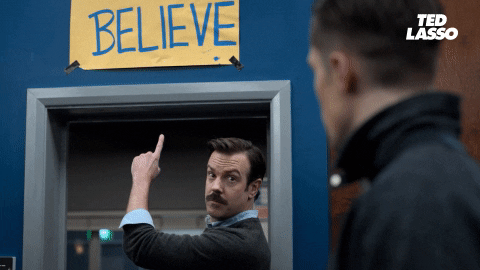 Belief is powerful. But employees need skills and knowledge to learn their jobs — and practice to perfect it.
In the real workplace: You definitely want to encourage employees by expressing your belief in their abilities to hit goals and overcome challenges. But you'll need to back that with training opportunities and resources so they have the skills and knowledge to fulfill their beliefs.
Issue 6: Ted rebukes help
Case in point: He wouldn't accept help from — and went so far as to make light of — the team's sports psychologist. He even saw the positive effect Dr. Sharon Fieldstone had on his players once they started therapy with her.
To note, he eventually let down his guard and used Dr. Fieldstone as a resource to work out some mental well-being issues. But he refused help far too long, letting some personal issues interfere with how he worked and lived.
"One of the most memorable components of Ted Lasso's character is how we see through him that it's okay for leaders themselves to be a work in progress even as they lead others," says Powell.
In the real workplace: Not only accept help when it's offered, pursue it when you aren't confident in your abilities to handle everything on your plate. It's not a sign of weakness. It's a sign you know when to rally to be certain your team achieves its goals.
Issue 7: Ted's unprepared for disaster
Ted is the ultimate optimist. The problem with always looking on the bright side of things is that he's ill-prepared to handle the dark side –when the worst actually happens. It has. And it will.
Although Ted has several game plans, thanks to Coach Beard and the other assistants, they aren't always prepared to defend the plan. They get beat by a better defense.
In the real workplace: For every plan, imagine what can go wrong. Then have a contingency plan — or at least some options to adapt quickly — if and when things go sideways.
Issue 8: Ted's a goldfish
Ted Lasso says, "You know who the happiest animal in the world is? A goldfish. Why? It's got a 10-second memory. Be a goldfish."
Problem with goldfish is their short memory doesn't allow them to learn from past mistakes. They just go ahead, not knowing they're headed into dangerous waters, a ruthless defense or a workplace crisis that's already been navigated — and could easily be overcome by using proven solutions.
In the real workplace: Remember mistakes, could've-been situations and wrongs. Just don't dwell on them much longer than goldfish can. Even better, think about missteps as long as it takes to envision a better outcome and how you'll manage better going forward.
Issue 9: Ted's a suck-up
What's Ted's secret to gaining acceptance by his new boss, Rebecca Welton? Biscuits. He brings her the best biscuits (shortbread cookies, to us Americans) she's ever had for weeks on end. And where's he get them? He bakes and boxes them himself every night. That's a suck-up!
Granted, his approach did help him forge a better relationship with his boss: He delivers them daily so they're forced to meet one-on-one. But it's built a bit on dishonesty.
In the real workplace: If you want more attention from your boss, get it legitimately. Request meaningful meetings to discuss your team, career, development and expectations. By all means, be nice to your boss. Stop shy of trying to buy her attention, though.
Issue 10: Ted ignores his well-being
Despite his eventual acceptance of therapy and follow through with the team's sports psychologist, Ted continues to have anxiety attacks at work.
He's paralyzed with anxiety over his personal life and the pressures of work. And it affects his ability to manage well.
In the real workplace: You can't put your mental and physical well-being on a back burner. Instead, follow The Airplane Practice — based on the airline instructions to put your oxygen on before helping others in an emergency. You can't help others if you aren't in a healthy place first.
"So, the journey to success, however you define it, must be shaped by how we navigate life's adversities, setbacks, defeats, tragedies, and triumphs," says Powell. "The knowledge gained from these experiences is the actual 'trophy' that builds exemplary leaders."