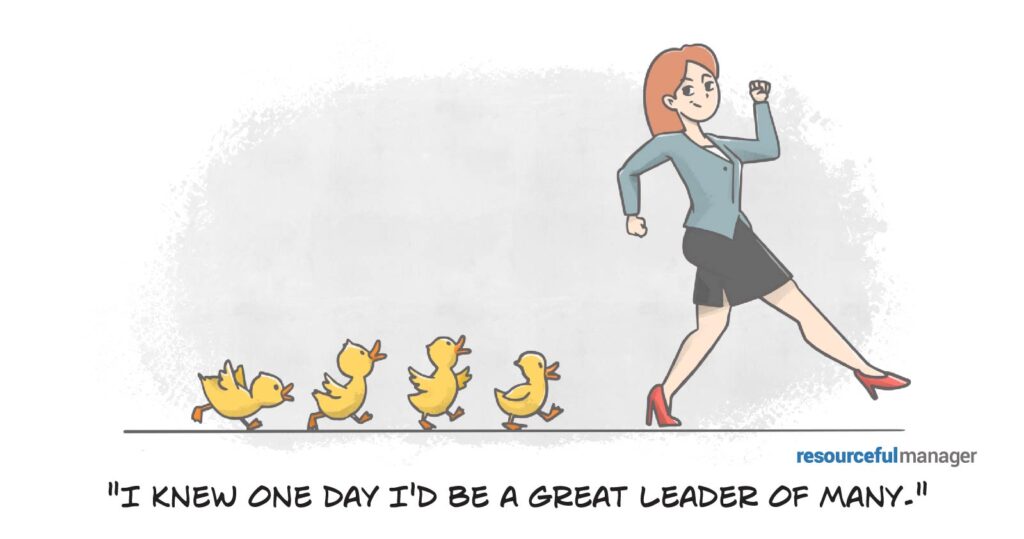 Being a manager is a job. Being a leader is an honor.
So if you're going to lead at work, why not be a leader everyone wants to follow?
Legendary leaders don't just manage processes, day-to-day interactions and even the occasional crisis. Instead, they build better people and teams: 70% of a team's engagement and effectiveness is influenced by how their manager leads them, according to Gallup research.
A leader everyone wants to follow engages employees, coaches teams and works toward the greatest good. It's behaviors — not functions — that sets apart leaders from managers.
Become a leader everyone wants to follow
"Leadership is not about having a certain title or performing a particular role. Leadership is about the power to influence others," says Doug Lennick, co-author of Don't Wait For Someone Else To Fix It: 8 Essentials to Enhance Your Leadership Impact at Work, Home, and Anywhere Else That Needs You.
"We are the leaders we have been looking for," adds co-author Chuck Wachendorfer. "You don't get to choose whether or not to be a leader. You only get to choose what kind of leader you'll be."
And the authors have laid out six leadership essentials that can help managers become a leader everyone wants to follow.
Focus on who
you

want to be

New managers often try to become the boss that the people who promoted them want. As they embrace the role, they might try to become the boss their employees want them to be.

Ideally, managers want to focus first on who they want to be.
---
Be yourself. Everyone else is already taken

Oscar Wilde
---
"We can only be successful leaders when we embrace principles and values, define our purpose and goals, and act accordingly," the authors say.
So do a regular gut check –whether you're a new or veteran leader — to make sure your values, goals and behaviors are aligned. If they are, everything else should fall in place.
Be your real self
When you recognize the person and leader you want to be, go with it. Employees follow authenticity. They can usually tell if you're faking the good stuff (kindness, honesty, concern) because they see and remember behaviors that don't reflect that.
"We need to cultivate self-awareness to benchmark our real selves against the people and leaders we ideally want to be," the authors say.
Bolster the strongest characters
Some leadership characteristics are more meaningful than others. You want to lean in to and bolster these four to become a leader everyone wants to follow:
Integrity. Tell the truth. Quell the false. Stand up for what's right. Stop what's wrong. Words and actions build trust.
Responsibility. By saying what you'll do — based on principles and values — and actually doing it, you can build trust with employees and colleagues. On the flip side, owning up to and fixing mistakes when they happen also builds trust.
Empathy. Listen to understand and appreciate what others feel.
Compassion. Use what you understand to show you care about the person and what happens next.
Be willing to let go what you know
Agility is a critical skill for employees at every level. It's especially important for people leaders.
The biggest obstacle to agility is the inability to let go what you know, which creates biases toward only the things you've seen, done and are comfortable with.
The best leaders are curious, choose growth over comfort, resist defensiveness and experiment, the researchers found. That leads to a better ability to learn from experience and quickly adjust in new circumstances — the epitome of agility.
Make conscious decisions
Your decisions shape who you are and how you're perceived in the workplace. Make a decision that positively affects others and you're the hero. Make a poor decision and it often sticks like Velcro ("He's a good boss, but this one time back in 1989 …").
But, here's the good news: You can make decisions that aren't popular, and they won't reflect poorly on your leadership. When you take these steps in decision-making, you can make decisions that employees frown upon, but they continue to respect you. Lennick and Wachendorfer suggest you:
Recognize what you and others are experiencing. Don't rush into a decision until you're certain you understand how the situation affects everyone.
Reflect on the big picture, principles and values that you and your organization hold true. Rely on the agility you've built through learning from experience.
Reframe your thinking as needed based on the recognition and reflection you've done.
Respond by deciding to do something — or letting things be. Either way, be prepared to explain why you made the decision.
Empower your people
Even with great decision-making abilities, let your people make more decisions on their own. When they see you thoughtfully make decisions — and perhaps walk them through your process — they become more adept to making good choices, too.
When you hand over the reins to allow employees to make decisions on how work gets done, goals get accomplished and ideas come to fruition, it's critical to clarify expectations and give them necessary resources.
"Creating a safer, happier, and healthier world is in our hands. You don't get to choose whether or not to be a leader. You only get to choose what kind of leader you'll be," Lennick says.