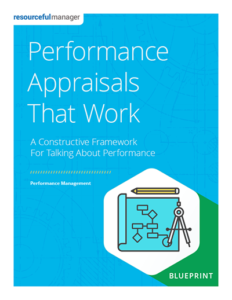 No More Waste-of-Time Performance Reviews
Turn uninspired reviews into a valuable employee development tool …and take the mystery out of evaluating and documenting performance
Do you dread performance reviews?
Or at least think the current way you have to do them is a waste of time.
You know, generic forms, inflexible rating systems and laborious processes.
If only there were a way to conduct performance reviews that aremeaningful, fair and deliver value to manager, employee and the company.
A roadmap that dives into every element of effective performance reviews.
What to do, what to say and what to avoid – plus a step-by-step checklist and
sample written reviews so you can put everything into practice immediately.
Key Performance Review Questions Answered …
How do I use the review to tangibly improve employee performance?
What do employees actually want from a performance review?
What should and shouldn't I say or write in a performance review?
Why do so many performance reviews fail?
How can I conduct great performance reviews even if my company uses an outdated process or system?
What if there is disagreement between manager and employee on performance?
What's Inside This Performance Review Blueprint?
Here's a detailed summary of the main sections and content
Chapter 1:
10,000 Foot View
Understanding the real purpose of performance reviews is the first step to achieving better outcomes. Here are a few nuggets you'll get from this introduction:
Page

6

Why performance reviews have become sterile "annual inspections" that give everyone involved a numbing feeling

Pages

10-11

7 misconceptions about what a performance review is for – and what it's really about

Pages

12-13

Why the key people of a great performing company are not who you think
Chapter 2:
Success Plan
When you read this section you'll get step-by-step guidance for the five key elements of performance reviews. Here's a sample of what you'll find in this section:
Page

16

The first rule of thumb for evaluating performance

Page

24

Ask these two questions if you and the employee aren't on the same page

Page

17-18

Where to begin – how to avoid sabotaging the review before it starts

Pages

25-26

Managing expectations for both the "ready to move up" and "simply content" employee

Page

23

The worst thing you can do in an annual performance review

Pages

27-28

Use these key tips before writing the official performance review

Page

19

How 15 minutes per month can take the fear out of performance reviews for both sides

Pages

29-38

How to organize the written review – whether you have a standard form or not

Pages

20-22

3 important steps to prepare for a review

Page

29

3 main sections every performance review should have

Page

22

Why you shouldn't provide a written review in advance of the face-to-face discussion

Pages

30-32

How to convey employee strengths and positives in a way that doesn't backfire

Page

23

Why your face-to-face sitdown should be an hour or less

Pages

32-36

How to express poor performance without provoking hostility or leaving the employee feeling dejected
Chapter 3:
Stumbling Blocks
By the time you get to this section you'll know how to use annual reviews as a valuable management tool. But you also need to watch out for these landmines included in this Blueprint:
Page

40

The #1 reason performance reviews fail

Page

42

Why you must fight the recency effect to write a complete review

Page

45

Why combining compensation with the performance review undermines the entire process

Page

40

How managers unknowingly sabotage any hope of employees improving their performance after the review

Page

43

The managerial behavior that screams "you're not important" to an employee
Blueprint Extras & Premium Bonuses
Practical Tools
5 Ready-Made Resources That Take the Guesswork Out of Performance Reviews
Fact is, knowing what to do and what not to do is great – but how do you put it into practice? These handy tools and examples demonstrate with specificity everything the Blueprint laid out. You get:
1
Blueprint Extra: 24-point, printable performance review checklist
Pull this out and use it before every view going forward to ensure you are consistent review-to-review with different employees and positioned for success.
2
Blueprint Extra: 8-question employee self evaluation questionnaire
This simple document gets employees engaged in the review process and generates tons of useful material that almost writes the written review for you, the manager.
3
Premium Bonus: 7 Sample Performance Reviews to Help Write Yours
These seven sample performance reviews offer actual language you can use when assessing different types of employee performance and situations. The true value of these seven examples is that each contains the kind of language that helps a manager set the stage to improve an employee's performance in the coming months.
4
Premium Bonus: 25 Effective Phrases to Use in Written Performance Review
These ready-made phrases span seven areas from positive reinforcement to areas that need improvement. And each phrase comes with an explanation of how and when to use it to help you articulate your feedback, save some time, and provide options to keep your reviews fresh when communicating similar things over and over again.
5
Premium Bonus: 25 Phrases NOT to Use in Written Performance Review
These phrases should be avoided in the performance reviews you write. They can zap employee morale, undermine productivity or even get you in legal hot water. Each phrase has an explanation of why you should not use it.
Before you decide whether this is worth your time and investment, consider these two facts …
70% of employees are "not engaged" (aka: sleepwalking) or "actively disengaged" (aka: miserable), according to a recent Gallup poll
The undeniable secret to success of all good companies is the relationship between its managers and its employees – and a flawed performance review system can destroy that relationship in a heartbeat.
This ResourcefulManager Performance Review Blueprint provides a success plan and tools you can use to make your job as a manager easier, less painful and more rewarding. And create a positive work environment where employees are engaged, motivated and highly productive.
The only thing standing in your way is $67 and one afternoon of reading. Is it worth it?
"Must-Be-Resourceful"
90-Day Money Back Guarantee
ResourcefulManager's "Performance Appraisals That Work" Blueprint comes with an unconditional, 100% money back guarantee.
We're confident you'll find several new and useful ideas to help you turn performance reviews into a strong employee development tool, presented in a practical, easy-to-implement format.
In fact, we'll give you a full 90 days to carve out the time in your busy schedule to read the Blueprint, digest the strategies, put the advice into action, and experience the results in your specific situation.
We believe to be a great manager … is to be resourceful. So every piece of content and product we create is designed to make you more knowledgeable, prepared and resourceful. Just for the record, as of 3/28/18, we've sold 5,427 ResourceManager products and only have had 68 refund requests.
If you decide "Performance Appraisals That Work" Blueprint doesn't deliver value or simply isn't your cup of tea, just email us at contact@resourcefulmanager.com within 90 days, and we'll process your complete, no-hassle refund in 1 business day or less.
But I'm confident you won't need to.
To your success,
John Walston
Get the ResourcefulManager Blueprint
Performance Appraisals That Work
Use This Complete, Step-By-Step Blueprint to Delegate Without Feeling Like You're Passing Off "Busy Work" or Being Perceived as a Paranoid Micromanager
Here's What You Get
53-Page Performance Review Blueprint
Blueprint Extra: 24-point Performance Review Checklist
Blueprint Extra: 8-Question Employee Self Evaluation Questionnaire
Premium Bonus: 7 Sample Performance Reviews to Help Write Yours
Premium Bonus: 25 Effective Phrases to Use in Written Performance Review
Premium Bonus: 25 Phrases NOT to Use in Written Performance Review
Download Immediately, PDF Format
90-day "Must-Be-Resourceful Money Back Guarantee"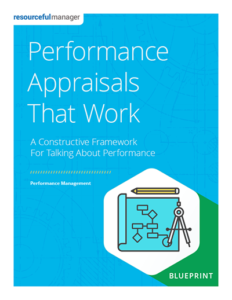 Get This Blueprint
& Much More …
With a ResourcefulManager Insider membership you'll get immediate access to the Blueprint you're looking at right now, plus all this in your account on day one:
16 Blueprints (PDF) – detailed, step-by-step frameworks, advice and recommendations for navigating everyday management challenges and difficult situations.
9 Essential Insights (PDF) – concise, 20- to 30-page executive summaries that deliver quick tips, distilled research and curated knowledge on a specific topic.
80 Practical Tools (PDF) – desk references such as checklists, worksheets, scripts, and more to help implement new ideas. Bridging the gap between advice and execution.
Quality, reliable information you can trust – professionally curated, distilled and delivered to you all in one place.
Become An RM Insider & Get This Blueprint – $19/monthNO THANKS, I'll Get This Blueprint for $67