8 Dicey Workplace Situations:
Would You Make The Right Call?
Real-life Legal Cases Where Some Managers Got It Right …
… And
Some Got It Wrong
Managers often stumble into pitfalls they never knew awaited them. This could be an unexpectedly long process of filling a new position on your team or the more extreme situation of handling a crying employee.

But, what happens when you're blindsided by an employee lawsuit?

For example …

Did you know you could potentially be held personally responsible for the way you handle a disagreement between two of your employees?

Or what about an off-the-cuff promise made in an interview to a seemingly talented candidate …

… Only to find out they were not the right fit for the job?

Are you legally bound by what you said?

It's important to equip yourself with the basics – from hiring to firing and everything in between.

You'll be able to handle every potential curveball headed your way.

We're not saying any of this to scare you but facts are fact – you need to know this stuff.

Here's where to start …
Essential Insights
8 Employment Law Cases
Every Manager Needs To Know
No legal mumbo-jumbo here. Just real-life cases that are clearly laid out in everyday language that's simple for everyone to understand.
The details of each case are summarized, and each legal decision provides a lesson in how to – and how not to – deal with each situation
In this Essential Insights you'll see why these cases were won or lost, plus:
Case #1: An imminent violent threat or just blowing off steam: Where is the line drawn? (Delaying action against a relentlessly difficult employee can create a bigger – and potentially more expensive – problem, the longer you let it fester)
Case #2: Key factors to understanding how far your responsibility as a manager can extend outside of the workplace. Plus, the one question that can help determine whether or not to take action
Case #3: Does the old saying "an oral agreement isn't worth the paper it's written on" hold up in court? The one action you should be aware of that can become the determining factor in just how legally binding the promise you made is
Case #4: Ensure you and your company are protected with this crucial course of action when any complaint is filed – bogus or not. It will help keep the law on your side
Case #5: 3 general guidelines to follow when deciding what "reasonable" accommodations are for disabled employees.
Case #6: Unwritten policies at work: The #1 red flag judges look for, if and when these types of lawsuits make their way to the courtroom
Case #7: When it comes to pay-raise decisions – you absolutely, positively, need to have this essential component to cover yourself if and when a lawsuit presents itself
Case #8: Debate: Performance Improvement Plans – a legal contract or written agreement? Two crucial elements to include in every PIP to protect you and your company from potential legal action
In this report, we break each case into six parts:
Background details to get you up to speed
The supervisor's decision
Why the employee sued
The company's position
Who won – and why
Analysis of the facts that led to the ruling
This fast-read guide details 8 common employee law situations that any manager could easily stumble into. Don't get stuck thinking "this won't happen to me".
Be prepared.
"Must-Be-Resourceful"
90-Day Money Back Guarantee
ResourcefulManager's "8 Employment Law Cases Every Manager Needs To Know" Essential Insights comes with an unconditional, 100% money back guarantee.
We're confident you'll find several new and useful ideas to become more productive, presented in a practical, easy-to-implement format.
In fact, we'll give you a full 90 days to carve out the time in your busy schedule to read the Essential Insights, digest the strategies, put the advice into action, and experience the results in your specific situation.
We believe to be a great manager … is to be resourceful. So every piece of content and product we create is designed to make you more knowledgeable, prepared and resourceful. Just for the record, as of 5/01/17 we've sold 3,546 ResourcefulManager products and have only had 35 refund requests. (less than 1%)
If you decide "8 Employment Law Cases Every Manager Needs To Know" Essential Insights doesn't deliver value or simply isn't your cup of tea, just email us at contact@resourcefulmanager.com within 90 days, and we'll process your complete, no-hassle refund in 1 business day or less.
But I'm confident you won't need to.
To your success,
John Walston
Get The ResourcefulManager Essential Insights:
8 Employment Law Cases
Every Manager Needs To Know
Here's What You Get
25-page Essential Insights
Immediate access, PDF format

30-day "Must-Be-Resourceful

Money Back Guarantee"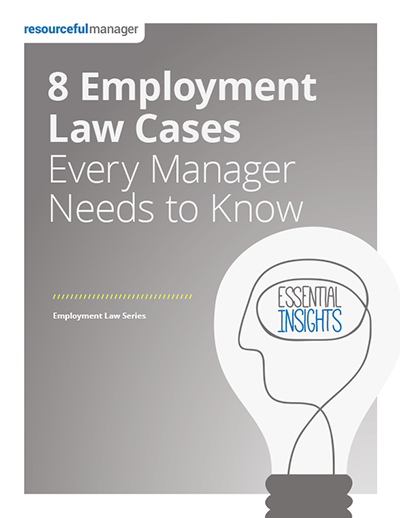 Get This Essential Insight
& Much More …
With a ResourcefulManager Insider membership you'll get immediate access to the Essential Insights you're looking at right now, plus all this in your account on day one:
14 Blueprints (PDF) – detailed, step-by-step frameworks, advice and recommendations for navigating everyday management challenges and difficult situations.
9 Essential Insights (PDF) – concise, 20- to 30-page executive summaries that deliver quick tips, distilled research and curated knowledge on a specific topic.
66 Practical Tools (PDF) – desk references such as checklists, worksheets, scripts, and more to help implement new ideas. Bridging the gap between advice and execution.
Quality, reliable information you can trust – professionally curated, distilled and delivered to you all in one place.
Become An RM Insider & Get This Essential Insights – $19/monthNO THANKS,
I'll Get This Essential Insights for $19