Practical Tools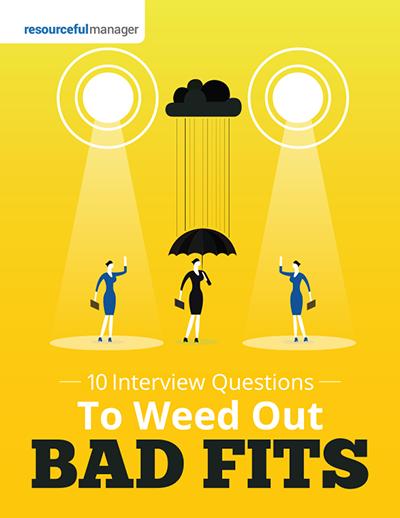 10 Interview Questions To Weed Out The Bad Fits
Ask these 10 questions to ensure a complainer, gossip, or overall bad fit doesn't sneak through the interview process:
Easily snake out this major reason for high turnover
Answer to this one question will show the candidate's true colors
See if the candidate is a good fit by tapping into their passions
How Google can help weed out the bad fits
Sign in
if you have an account.
Get This Free Practical Tool & More ...
Claim your FREE MyResourcefulManager membership and get instant access to the practical tool you're looking at right now, plus a toolbox of management and professional development resources, such as:
10 Interview Questions To Weed Out The Bad Fits
How To Tell An Employee He Smells: A Sample Script
Dealing With A Critical Jerk
The FMLA Cheat Sheet: A Handy At-A-Glance Guide
What Should You Delegate: A Handy Worksheet That Will Make Your Job Easier
50 Most Misused And Abused Words in Business Writing
And 9 more resources waiting in your account
Join the club where more than 60,000 smart resourceful managers come to improve.
Create My FREE Account