Practical Tools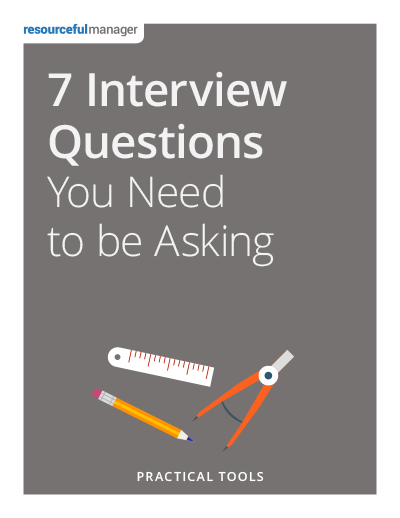 7 Interview Questions You Need to be Asking
To hire the most qualified, best-fit for your company, the classic "Tell me about your strengths and weaknesses" approach just won't cut it.
You want to talk away from every hiring interview with a pretty good understanding of the candidate's skill, intelligence, cultural fit and personal character.
In this Practical Tool you'll discover:
7 unique questions most candidate's haven't heard – that tells you the most about them
Sample potential answers – good and bad
Explanation of why sample potential answers are good or bad
Sign in
if you have an account.
Get This Practical Tool
& Much More …
With a ResourcefulManager Insider membership you'll get immediate access to the Practical Tool you're looking at right now, plus all this in your account on day one:
Quality, reliable information you can trust – professionally curated, distilled and delivered to you all in one place.
Become An RM Insider &amp Get This Practical Tool – $19/month
What Our Customers Say
"
From bite sized pieces of wisdom to full on training series, I highly recommend Resourceful Manager!
Cindy Saunders, SPHR|GPHR|SHRM-SCP,
Human Resources Business Partner
"
This is one of the best resources I have had as a people manager and use it frequently. I find good guidance and information to use and share.
Joe Byrne,
Sr. Customer Operations Manager,
Inflight Connectivity
"
Quick actionable advice backed by research. I also appreciate the common format of the blueprints and depth that is available to make implementation dynamic to my application (I don't feel like I have to change the world at once).
Kenson,
Quality Manager