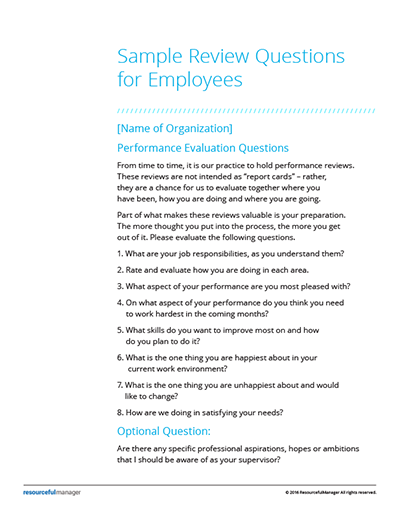 Sample Performance Review Questions for Employees
It is important to remember that effective performance reviews aren't something you do at employees; reviews are something that you do with employees.
In this Practical Tool, you'll find questions that garner the type of feedback needed to improve employee performance, happiness at work and an internal, deeper thinking about job responsibilities and other aspects, such as:
Future career aspirations managers should know about their employees
Where their focus should shift in the upcoming year and why
What they are most satisfied with at work, most unsatisfied with and how to improve or change them
Sign in
if you have an account.
Get This Practical Tool
& Much More …
With a ResourcefulManager Insider membership you'll get immediate access to the Practical Tool you're looking at right now, plus all this in your account on day one:
Quality, reliable information you can trust – professionally curated, distilled and delivered to you all in one place.
Become An RM Insider &amp Get This Practical Tool – $19/month
What Our Customers Say
"
From bite sized pieces of wisdom to full on training series, I highly recommend Resourceful Manager!
Cindy Saunders, SPHR|GPHR|SHRM-SCP,
Human Resources Business Partner
"
This is one of the best resources I have had as a people manager and use it frequently. I find good guidance and information to use and share.
Joe Byrne,
Sr. Customer Operations Manager,
Inflight Connectivity
"
Quick actionable advice backed by research. I also appreciate the common format of the blueprints and depth that is available to make implementation dynamic to my application (I don't feel like I have to change the world at once).
Kenson,
Quality Manager