Practical Tools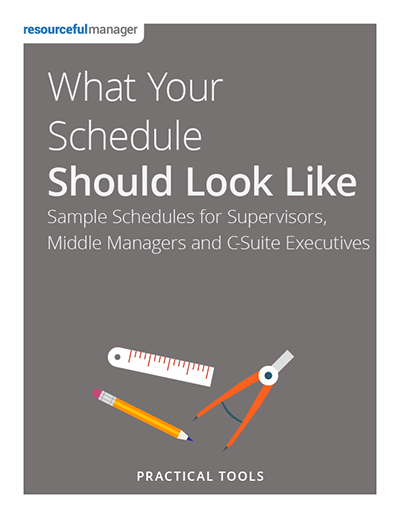 What Your Schedule Should Look Like
Maximizing your productivity making, using and keeping a good schedule that allocates your time – not by individual tasks but – by your strategic responsibilities.
In this Practical Tools, we'll give you actual sample schedules you can put into use immediately for Supervisors, Middle Managers and C-Suite Executives. You'll also find:
Key responsibilities for each management level
Other factors that are crucial to success in each management position
A "Week in the life" of a typical Supervisor, Middle Manager and an Exec
Sign in
if you have an account.
Get This Practical Tool
& Much More …
With a ResourcefulManager Insider membership you'll get immediate access to the Practical Tool you're looking at right now, plus all this in your account on day one:
Quality, reliable information you can trust – professionally curated, distilled and delivered to you all in one place.
Become An RM Insider &amp Get This Practical Tool – $19/month
What Our Customers Say
"
From bite sized pieces of wisdom to full on training series, I highly recommend Resourceful Manager!
Cindy Saunders, SPHR|GPHR|SHRM-SCP,
Human Resources Business Partner
"
This is one of the best resources I have had as a people manager and use it frequently. I find good guidance and information to use and share.
Joe Byrne,
Sr. Customer Operations Manager,
Inflight Connectivity
"
Quick actionable advice backed by research. I also appreciate the common format of the blueprints and depth that is available to make implementation dynamic to my application (I don't feel like I have to change the world at once).
Kenson,
Quality Manager