Practical Tools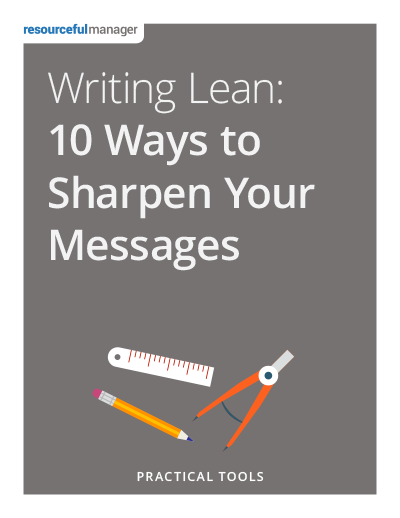 Writing Lean: 10 Ways to Sharpen Your Message
We've all experienced the horrible feeling of taking the time to write a memo or report, only to have your computer malfunction – and all is lost!
Odds are, as you frantically try to remember your first draft word-for-word, you leave out a lot. The result? A better, more concisely written document.
In this Practical Tool you'll discover how to:
Choose strong verbs vs. weak verbs – and the difference between the two
Eliminate short words that take up a lot of space
Steer clear of wordy phrases
Sign in
if you have an account.
Get This Practical Tool
& Much More …
With a ResourcefulManager Insider membership you'll get immediate access to the Practical Tool you're looking at right now, plus all this in your account on day one:
Quality, reliable information you can trust – professionally curated, distilled and delivered to you all in one place.
Become An RM Insider &amp Get This Practical Tool – $19/month
What Our Customers Say
"
From bite sized pieces of wisdom to full on training series, I highly recommend Resourceful Manager!
Cindy Saunders, SPHR|GPHR|SHRM-SCP,
Human Resources Business Partner
"
This is one of the best resources I have had as a people manager and use it frequently. I find good guidance and information to use and share.
Joe Byrne,
Sr. Customer Operations Manager,
Inflight Connectivity
"
Quick actionable advice backed by research. I also appreciate the common format of the blueprints and depth that is available to make implementation dynamic to my application (I don't feel like I have to change the world at once).
Kenson,
Quality Manager