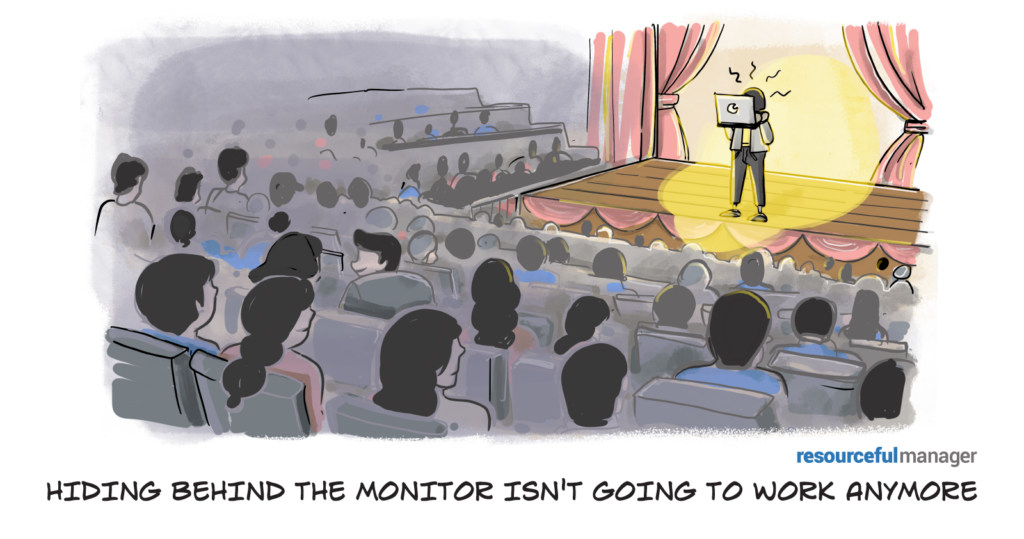 You can't hide behind a computer anymore. It's time for public speaking again.
If you hate the thought of it more than death – as Jerry Seinfeld famously coined – it'll be worse now. We're all out of practice after a few years training, meeting and interacting virtually – sometimes without cameras on.
Let's dust off those public speaking skills. Or pick them up if your leadership role is relatively new. But just think of it as a necessary evil. Better public speaking will help boost your career.
Good "oral communication" and "presentation skills" are two of the top skills recruiters look for, according to an analysis from the Graduate Management Admission Council. Yet, nearly 45% of people who suffer glossophobia – yep, that's the clinical name for fear of public speaking – have turned down a promotion or job position for fear of having to speak publicly in the role, a Fear-less survey found.
There are two types of speakers: those that are nervous and those that are liars.

Mark Twain
Own the stage, and you can muscle up your career.
Here are seven tips to become effective and commanding at public speaking – whether it's in front of a training group, the C-Suite or a whole conference.
1. Know the audience
You won't engage an audience if you don't know at least as much about them as they know about you. Even if you're speaking in front of a group of colleagues, you'll want to learn a little more about them before taking center stage.
Do some research – even if it's a few informal conversations – ahead of time to gauge what they know about the subject, expect to hear from you and what interests them. It'll help you tailor the talk to the group.
2. Ease the speaking burden
Think of public speaking as more conversation, less monologue. That'll serve two purposes: You don't have to worry about doing all the talking, and you boost audience engagement by getting them to talk.
When preparing to speak, add questions, polls and talking points to throw out to the audience. But don't let it derail what you have to cover. Keep an eye on discussion time, reel in off-subject chatter and note if anything should be discussed offline.
3. Add humor, intimacy
You have three ways to immediately gain your audience's attention: make them laugh, move closer to them or talk off script (or at least pretend you're talking off script). Researchers at Kennesaw State University detected peak audience attention when speakers did one of those three things.
If you're using humor, be cautious. Run jokes or any other attempt at being funny past a variety of colleagues before using them with an audience to make sure it hits the right tone.
4. Know the limits
Talk too much and you'll lose the audience. Talk too little and you'll never get them. If you try to jam everything you know about a subject into the presentation, you'll overwhelm the group. If you don't include enough, you'll appear unprepared.
Although the right timing and information varies for subjects, audiences and settings, whittle down your first go at the presentation by 25%. Hold onto the other information if you need it to fill space, time or questions.
5. Use your voice
If you're nervous about public speaking, the last thing you want to do is be someone you aren't. Don't try to imitate great orators or experts in the field.
Instead, lean into what you know best – you'll feel most comfortable talking in your expert zone anyway – and a tone you naturally use.
6. Limit the aids
As a nervous speaker, you might be tempted to lean on a crutch that seems suitable for a presentation – PowerPoint slides, handouts, videos or anything that isn't you! But if all the information is elsewhere, there's no sense in presenting it.
Instead, focus on making your words matter. Slides and handouts should contain no more than bullet points – avoid full sentences and paragraphs. If you want video, limit it to less than two minutes at the end or beginning of your public speaking.
7. Work new mediums
Public speaking isn't limited to classrooms and conferences these days. Many leaders will take on podcasts or create training videos. And while they're a form of public speaking, they aren't the same as standing in front of a live audience.
You'll still want to research the audience and prepare to share your expertise. But approach podcasts and training with even less formality. You'll want to use a more conversational tone and integrate more stories or anecdotes that make the information come alive.