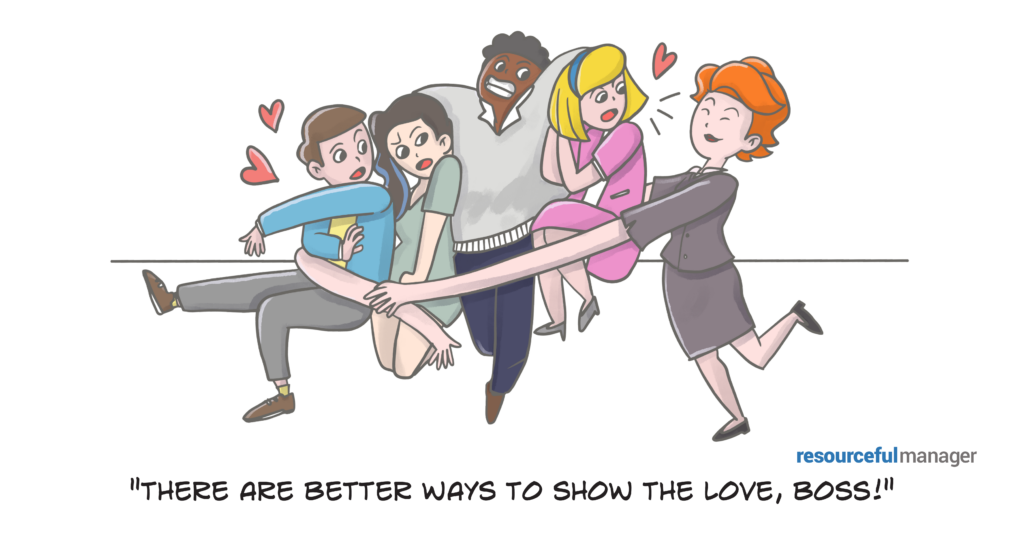 At work, across industries, continents and generations, this is one thing that will always be in vogue: Appreciation.
You want to show employees you appreciate them because they're smart. They're responsible. They're progressive. They're adults. And finally, for the most part, they still need to feel the love.
Although the calendar calls for just one Employee Appreciation Day a year, anyone in charge of people should show appreciation many times a year.
"Employers who build these recognition structures into their business will create more ongoing, consistent connections where each and every employee can be rewarded for their hard work," says Dr. Meisha-ann Martin, Sr. Director of People Analytics at Workhuman. "Showing appreciation throughout the year also gives employees a greater sense of security and transparency, both of which are important to retaining top talent."
Best ways to show employees you appreciate them
First things first: Never underestimate the power of cash. Money, gift cards and bonuses are generally the most wanted and appreciated reward in the workplace. Behind that is almost always time – more days off, opportunities to come in late or leave early, or work the most desired shifts.
OK, now that we got the usual business out of the way, let's get to the good stuff – the quirky, funny and unique things that show special appreciation and inspire employees to be even better.
Here are 17 – mostly from front-line managers who've made the ideas work.
Awards everyone wants
One manager easily adapted these quirky awards – given with small gift cards and plenty of laughter – when they started remote and hybrid schedules:
Master of Disaster for the employee who resolved the most tedious and complex issues
Worn Out Shoe for the employee who always went the extra mile for others
The Client Whisperer for the one who always said the right thing to clients
Champion Colleague for the employee who never hesitated to pitch in, and
Rebound Rockstar for the employee who bounced back from tough situations – and helped colleagues do the same.
Game day tailgate
No matter the sports season, tailgates are fun.
Set up an outdoor tailgate, asking people to bring in games such as corn hole, ladder ball and disc toss. Encourage employees to wear their favorite sports team attire (if it's appropriate in the office). Cook hot dogs and burgers on an outdoor grill, order them or arrange for a food truck to show up at your office.
If you're remote, send employees gift credit to food delivery services and do all the same over a Zoom call so groups can get together virtually and talk "game."
Help them relax
Showing appreciation when employees' are under extra pressure is especially important.
When stress peaked at Meeting Tomorrow in Chicago, bosses asked employees what would make them happier. Someone mentioned a spa day at work – and they laughed at the idea … at first.
Then they made it a fun reality: They hired two massage therapists and set them up in conference rooms during their most hectic work weeks. Employees stop by for 10 minutes to relax and rejuvenate.
Be inspirational
Sincerity is key to any kind of appreciation, says Todd Patkin, author of Finding Happiness: And he offers this idea:
Boost spirits by spreading a daily good attitude. Find "feel good" stories and quotes and send them out via email or post them on your group's Slack channel. For a good laugh, you might send links to funny, "inspirational" videos, too. It might seem hokey at first, but people usually start to look forward to it.
Focus on internal success
Take time weekly – that means, put it on a calendar! – to recognize, applaud and reward employees' small and large accomplishments. And if you're thinking, "How can I find something to cheer about every week?" don't worry. Ask employees to tell you when they do great things.
We know a small business owner – his name is Bob – who encourages his people to drop by his office and tell him about any success they had at work so they can get "A buck from Bob." It's less about the dollar amount and mostly about always being recognized.
Remember external success
Recognize and celebrate the great things employees do outside of work. Encourage them to talk about their passions and when they've hit a milestone or achieved a goal. Whether it's a 5k race, a handcrafted afghan, a wedding or newly minted certification, applaud it.
"On a macro level, recognition moments that celebrate life accomplishments, not just professional ones, are also really fun ways to recognize that workers are humans first, not just a sum of their professional responsibilities," says Martin. "Adding these lighthearted moments to people's daily jobs helps create stronger workplace cultures and working relationships."
Include the family
When appropriate, get employees' family involved in praise and recognition. Call loved ones to thank them for their support so employees could work longer or harder during a busy season or special project.
Even better, send bulky mail (it's an old marketing tool) to employees' family members. Put a company tchotchke – such as a charger or ear buds – that add bulk to a larger envelope and include a short note, thanking family members for their patience when the employee had to work longer or harder.
Give them time
Nothing says you appreciate employees like the gift of time. These two ideas say a big thanks:
Snooze or Cruise Reward. When employees exceed goals or go above and beyond the call of duty, give them a pass to come in a half-hour late or leave a half-hour early on a day of choice.
A 'Meeting-free Day.' Schedule at least two meeting-free days per month so employees can use the time to clean up files or catch up on things that get put aside when they have to attend meetings.
Be cheesy
Call them cheesy, but these gag gifts and gimmicks still garner smiles.