Leaders, supervisors, managers, etc., have been doling out information via slide presentations for eons.
And the majority of these presentations have been bad.
I'm talking "pull your hair out" bad!
I was always under the impression you want your audience to pay attention to your presentation and absorb the knowledge you're imparting, but I've seen so many slide presentation mistakes that I guess I was wrong!
So if you want to join the masses and make your audiences wish they were deaf and blind, here's exactly what you need to do.
1) Create an endless lists of bullets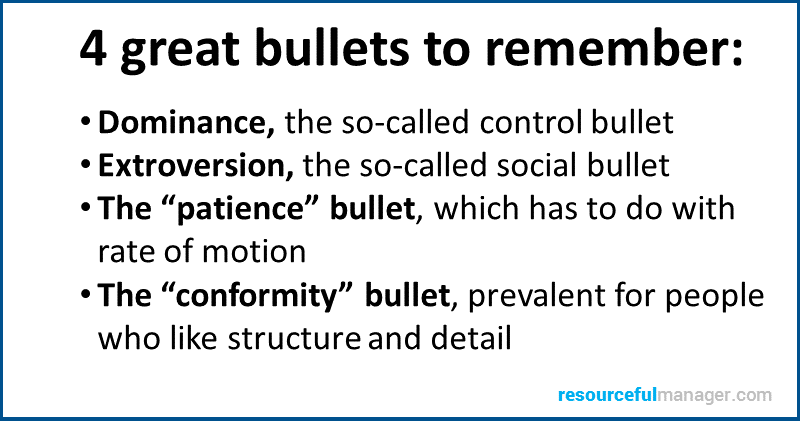 If you don't want people to remember one word of your presentation, I have the perfect solution for you: Put everything you have to say in bullet points.
Why?
Bullet points make information more difficult to remember, especially when they're accompanied by the presenter talking.
It makes your audience switch between reading and listening, which is cognitively exhausting, and will drive your audience crazy so they won't remember a thing!
2) Create color clashing combinations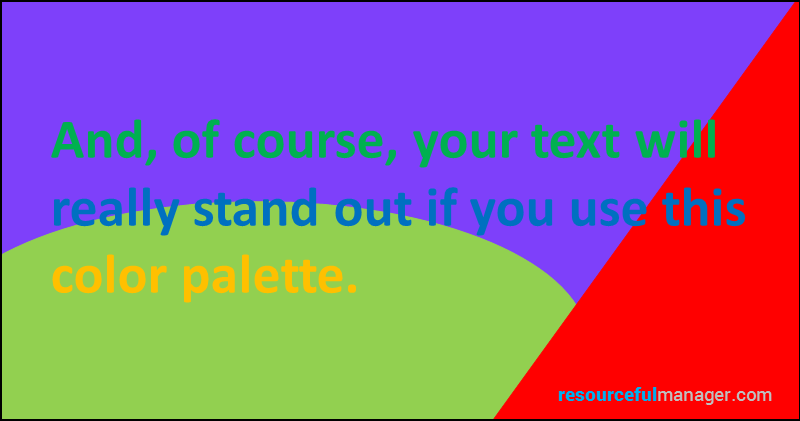 Still looking for a surefire way to turn your audience off?
Create unpleasant color combinations on your slides. They give people massive headaches trying to read them.
Experts say these are the most offensive color combinations to use:
Yellow text on a green background
Green text on a red background
Purple text on a green background
Red text on a black background, and
Blue text on a red background.
I say use them as much as possible. And avoid black text on a white background at all costs, because it gives you the biggest contrast which makes it super easy to read – and you don't want that!
Experts also recommend that you limit your color scheme to two or three colors and use them throughout the presentation.
Pshaw, make it look like Rainbow Bright threw up on your slides!
Your audiences' eyes will bug out of their heads!
3) Use lots of teeny, tiny text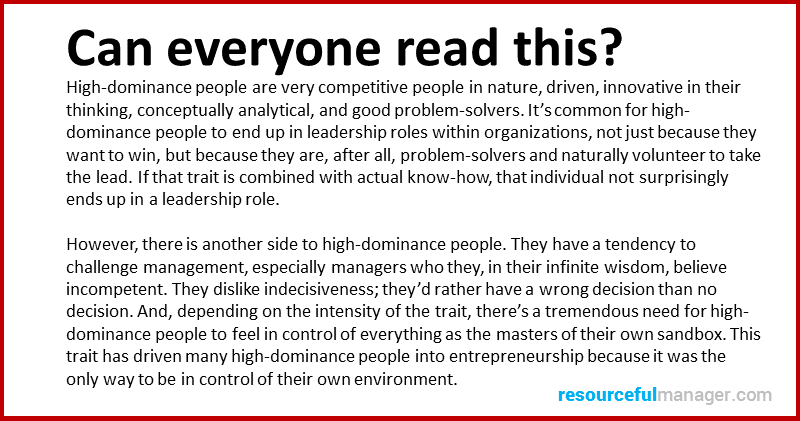 Now here's one of the deadliest things you can do.
Load your slides up with as much text as humanly possible. Just write one paragraph after another and keep it going from slide to slide.
And the smaller point size you use, the more you can fit on one slide! If you have to ask your audience "Can everyone read this?" then you are on the right track!
Remember, big and bold are your enemies!
Making something easy to read will cause your audience to focus on what you're saying – and you sure don't want that!
Most importantly, never ever have a slide with just an image on it and no text.
Think about it: How many people would rather read text than look at a picture?
The truth is, when paragraphs of texts or bulleted lists are on slides, audience members will read them – it's habit. And when they're reading the slides, guess what they aren't doing? LISTENING!
So cram that tiny text on your slides and no one will remember a single word you say because they'll be too busy squinting to read your slides!
And here's the crème de la crème:
Most audience members won't absorb what they're reading because the presenter is talking. It's a lovely vicious circle!
4) Show tons of cute, adorable or silly images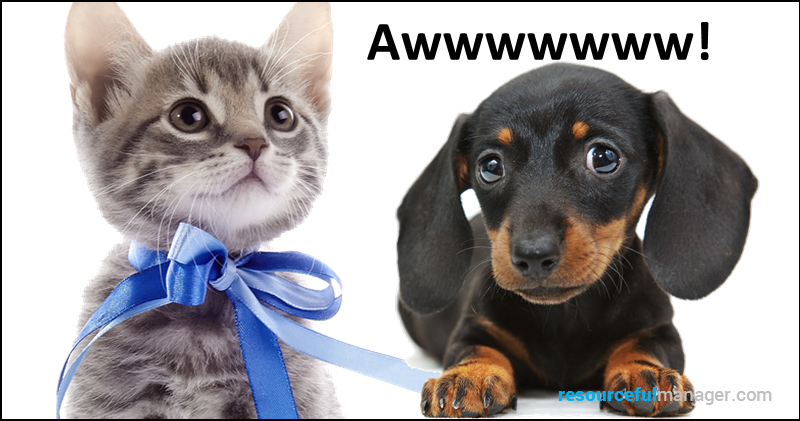 Your audience is still paying attention? Yikes. Time to really step it up.
Experts say people would rather look at pictures, than read text. But don't let that stop you from using that cute picture of two fluffy kitties snuggling.
If you aren't great at writing endless paragraphs of tiny prose to distract your audience from what you're saying, adorable and/or silly pictures will do the same thing.
According to the experts, pictures have to be relevant to the story you are telling at that exact point in time.
So go the other way.
Dig up that adorable picture of your puppy and baby sleeping together or the silly picture of your pet in a Halloween costume!
Who cares if it doesn't enhance your message! It's certain to get a laugh.
And don't worry about the quality. If it's purely for entertainment purposes, it doesn't really matter how fuzzy the photo is.
5) Generate absolute chaos with text over images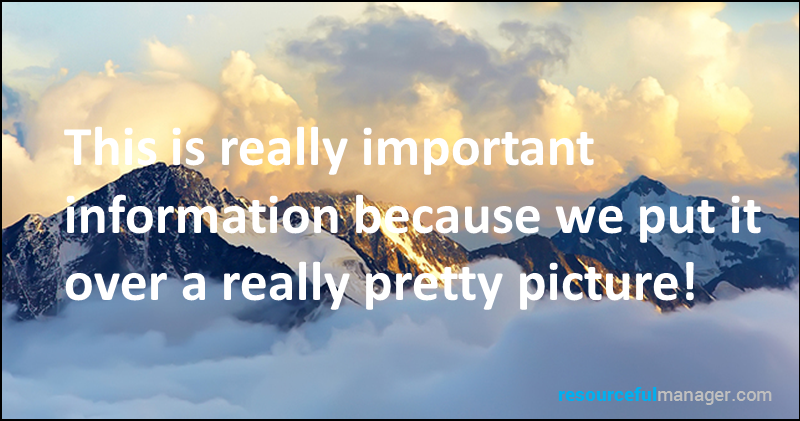 Here's the piece de resistance when it comes to distracting your audience from what you're saying: Put text over a photo or graphic!
It's the perfect lose-lose situation!
Your audience will struggle to make out the image, and they won't be able to read, much less comprehend your text because … they're trying to figure out what the image is! See the evil beauty in it?
You may have the most amazing image ever, and it may add enormous value to your presentation, but make it the background for you slide and put text over it, and you create total and complete brain chaos.
6) Experiment with as many crazy fonts as you can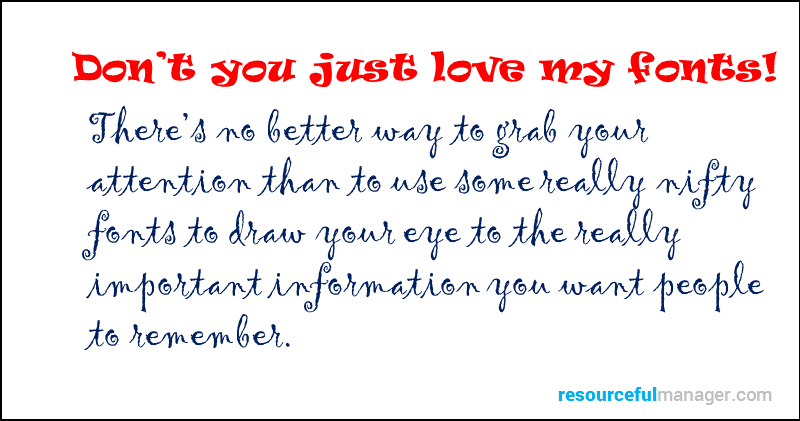 Creativity is a great character trait to possess.
But watch out, experts will tell you to leave your creativity at the door and focus on consistency when creating a slide presentation.
They say too many crazy fonts make your presentation hard to read!
Well duh! That's what you're after.
They recommend you use no more than two complementary fonts (a regular and a bold) and you use them throughout your presentation.
They also recommend Sans-Serif fonts because they're easier to read on screen.
But I say your slide presentation is your canvas so, GO NUTS!
Decorative fonts, such as Ravie, Chiller, Edwardian Script, Gigi, Curlz MT, Jokerman, Matura MT Script Capitals, Old English Text, Vivaldi, look really cool and are so much fun to play with. Of course, the biggest sin is Comic Sans.
Who cares if they're difficult to decipher and are annoying as heck to read – they're cool.
Plus, the more you tick off your audience, the less they'll pay attention to you!
7) Produce massive amounts of clutter and confusion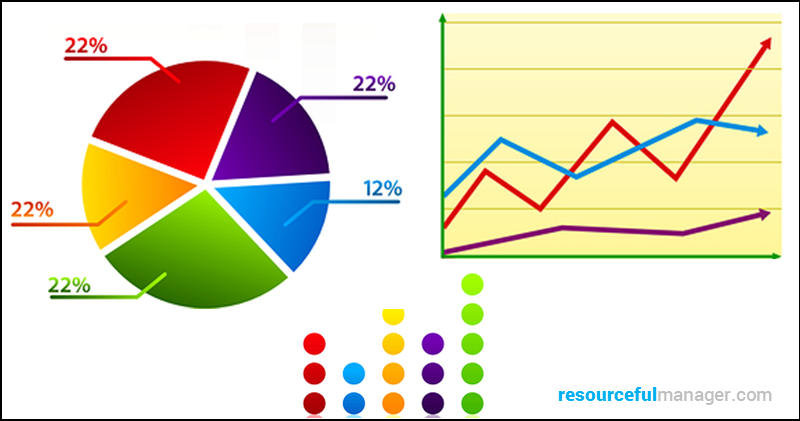 Have you ever heard of KISS? You know, "Keep It Simple Stupid."
That's the approach you want to avoid!
One idea per slide, creates massive comprehension. And white/negative space is a very bad thing if you don't want your audience to pay attention.
Fill as many of the empty spaces as possible with unnecessary images, graphs, logos, etc. This will cause massive information overload and cause your audiences' minds to shut down.
Clutter is delightfully distracting.
Need one last-ditch effort to unhinge your slide presentation?
You can achieve it with massive quantities of transitions!
Every single new bullet point and slide should have a different transition to introduce it.
And don't bore your audience with the simple "Wipe Left-to-Right" or the "Fade."
Create major pizzazz by using the vast array of transitions available, such as fall over, drape, curtains, wind, prestige, ripple, glitter, vortex, fracture, crush, peel off, shred, page curl, dissolve, checkerboard, blinds, flip, rotate and pan … just to name a few.
You have loads of them at your fingertips, so why not use them all and show people how talented and creative you really are!
The exciting part?
Your audience will be so riveted by what new and exciting transition you'll use next, they'll have no idea what you're saying.
And isn't that what you're trying to accomplish in the first place?