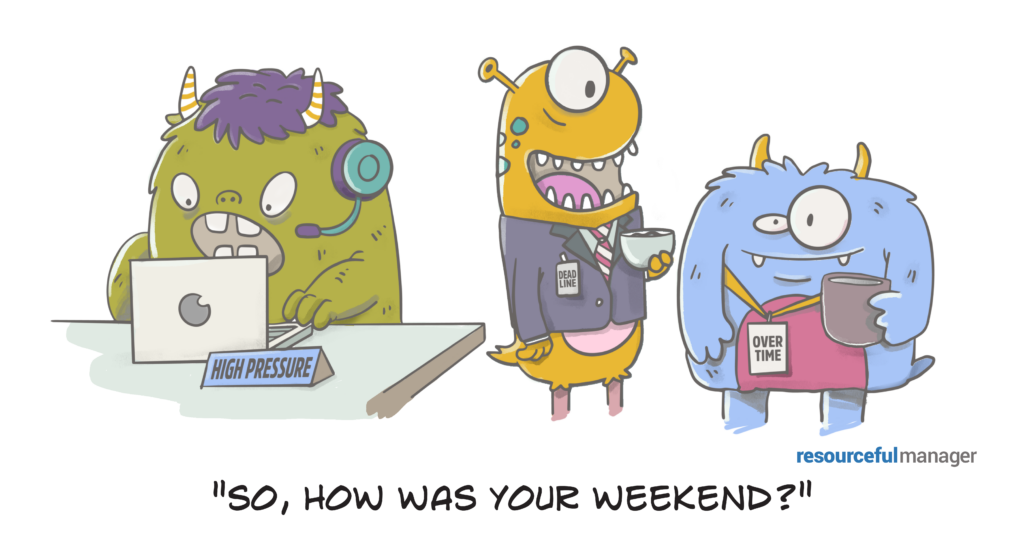 Sunday Scaries are real — a gut-wrenching reaction to the monsters at work.
In fact, more than 60% of people suffer from the dread that sets in at the end of weekly time off, according to research from Zety.
Too many of us zone out of Sunday Funday. And some of us can't sleep that night, imagining the day ahead that might feel like Alexander and the Terrible, Horrible, No-good, Very Bad Day.
What do we dread most? Zety found it's:
High-pressure work environment
Heavy workload and overtime
Colleagues who are bullies (or worse)
Unfair treatment
Physical labor demands
Long commutes and days at work
Job dissatisfaction
Lack of internal support, and
Poor relationships with colleagues.
It can make us stressed or even depressed.
At the root of Sunday Scaries
"So how can we avoid back-to-work blues for upcoming Mondays?" asks Nicola Hemmings, Head of Workplace Psychology of Koa Health. "Building helpful well-being habits can seem like a lot when you're first switching back to work mode but taking small, consistent steps can help."
Sunday Scaries often worsen personal and professional stress, the work/life imbalance and weakened employee engagement. So if you can turn Sunday Scaries into healthy weekend reprieves, you might be able to alleviate the other issues and build a better work week.
"A workforce with stronger mental well-being is more likely to have stronger morale, greater productivity and reduced sick leave and staff churn," says Hemmings.
So whether you suffer from the Sunday Scaries, or you want to help employees who face it, here are five ways to lessen or eliminate them.
1. Try 'Structured Sundays'
By all means, do the things you enjoy on Sunday (or whatever the day is before you go back to work), but give it a little more structure than you have in the past.
If you plan the things you enjoy — whether it's yoga, binge-watching, fishing, hiking, cooking or reading — rather than doing something spontaneous you keep your mind more occupied. And a busy mind and/or body isn't as likely to start thinking about Monday.
Even better, build a routine with room for spontaneity. More structure=less stress.
2. Identify anxiety sources
Sunday Scaries are a form of anxiety — we're anxious about the known and unknown. And anxiety is a normal human reaction.
So try to pinpoint what's causing you the anxiety. It might be one thing or it might be several. It might be the same thing or it might change every week. Point is, if you can identify what's eating at you, you can bite back.
How? Organize a to-do list around the big issue. Lay out a plan for the conversation you want to avoid. Make a priority list so you can tackle the biggest ones first, which might eliminate the lower priorities later.
3. Adjust your mindset
Anything we dread is only made worse by thinking "I have to … (get a root canal, go to work tomorrow, pass the test, etc.)" Instead, try to adjust the mindset to "I get to …"
Sometimes, mind tricks actually help.
Replace "I have to stay late to finish everything" to "I get to spend some quiet time in the office and get focused on next quarter." Or replace "I have to work 50 hours this week," with "I get to put the finishing touches on the project that will put me in the running for a promotion."
4. Create some excitement
Plan something special for Monday morning — perhaps a quick cup of coffee with a seldom-seen colleague. Or an early lunch date. Or a pre-work walk. Giving yourself something to look forward to will eliminate some dread.
Even better, plan a few exciting things for the week so you maintain the positive momentum. Think of them as rewards for getting through the work you plan to accomplish.
5. Close Sunday well
Make Sunday evenings a way to ease into the week. When possible, plan for it to be more of a wind-down time and less of a rush to the finish.
Limit screen time before bed so you can rest with a clear mind. And try to get the maximum of your normal sleep hours.