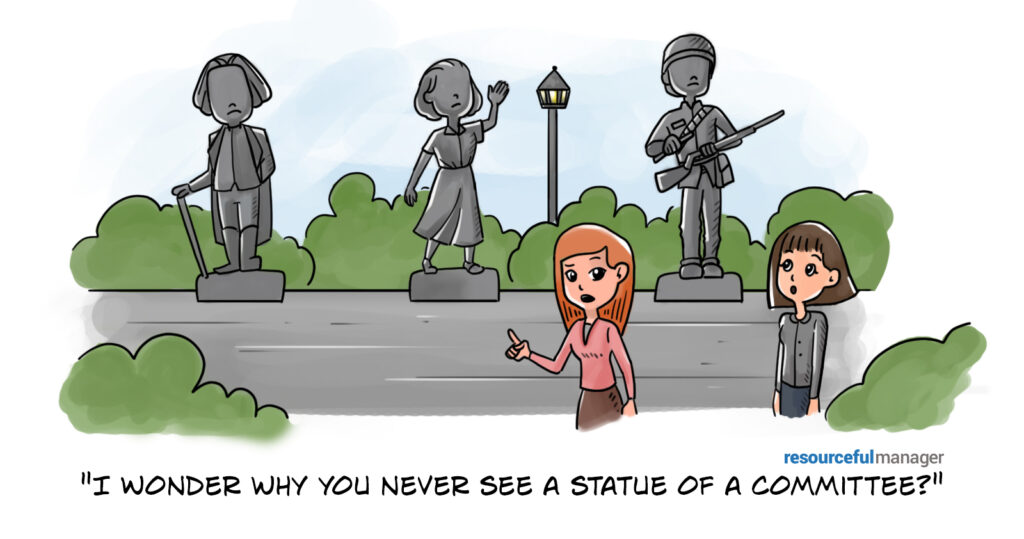 You put together a dream team. And the odds of winning are still against you.
Work teams fail to hit their goals almost 60% of the time, according to research from The Ken Blanchard Companies.
But don't feel too bad about a losing dream team from your leadership past. There are few that failed in bigger ways and on bigger stages:
The 2004 U.S. Olympic basketball team consisted entirely of NBA stars — including LeBron James, Allen Iverson, Tim Duncan, Carmelo Anthony and Dwyane Wade — and it finished third, losing to Puerto Rico, Argentina and Lithuania along the way.
Megastars Brad Pitt, George Clooney, Catherine Zeta-Jones and Julia Roberts worked together for the expected blockbuster Ocean's Twelve. It got poor reviews and grossed less than star-free, low-budget My Big Fat Greek Wedding.
A former McKinsey executive lead a team of million dollar executives from elite business schools to run the Fortune 500 company Enron … straight into fraud and bankruptcy.
Don't let your teams fail
Now the good news: Whether you have a dream team or a bunch of misfits, you can hit goals if you know why teams fail — and take steps to avoid the mistakes.
"Many teams are brought together with no more thought than a general idea of 'we need a team to do this.' As a result, these teams get formed sloppily with no clear purpose or goal," says Dr. Eunice Parisi-Carew, a researcher and founding associate at The Ken Blanchard Companies.
Parisi-Carew found these are the top nine reasons teams fail. We've included tips on how to avoid or overcome the sticking points.
1. Failure to plan
At work, teams are often formed and thrown into action with limited planning or forethought. Sure, you might have your regular work team, but when you need to address an issue or get a project done, many managers pull together who's available. Then they go at it haphazardly.
Instead: At the first team meeting, ask:
Why are we together?
What are the goals?
What role will each of us play?
What is expected of each of us?
2. Lack of support for team culture
Everyone wants the team to achieve goals, but sometimes management doesn't support the team concept. For instance, management tells the team to find and execute the solution, then they require the team to get every move approved. Or you form a team to tackle a big project but don't pull back on their other responsibilities.
Instead: Early on, establish the team's level of authority and decision making. Then get out of their way!
3. Limited resources
Some teams fail because they're given a task or goal, but they don't have the budget, time or training to get it done right. This lack of resources also kills their morale, as they fall short time and again.
Instead: Also early on, assess the time, money and additional training the group will need to get the job done well and on time. If you can't provide what they need, you'll want to re-assess the goal and create realistic expectations.
4. Unestablished etiquette rules
In some cases, teams fail because they don't establish behavioral norms. This doesn't necessarily mean they're rude or inappropriate to each other. More common, they fail to establish things such as how they can communicate most effectively, how they run meetings and workflow, and time expectations for responses and action.
Instead: Establish communication, meeting and workflow rules that make sense for the team and the project.
5. Limited leadership
The researcher found many teams fail because one person is in charge of too much or too many. The highest performing teams have shared leadership — nearly everyone takes a lead role in some part of the project.
"A team is a living, breathing entity. A team leader needs to see himself or herself as a servant and a guide for the group, not as the hub or ultimate decision maker," says Parisi-Carew. "You will never have a truly high-performing team unless leadership is shared."
Instead: Let people take charge of what they do best. While there might be a team leader or coordinator, everyone should lead part of the project.
6. Lack of accountability
Similarly, some teams don't succeed because team members don't take responsibility for their roles and/or mistakes … and teammates fail to hold them accountable to those.
Instead: While everyone is on the team mission, you want to also establish individual expectations, consequences for falling short and rewards for hitting goals and above-and-beyond efforts.
7. Focus on function
The best teams are focused on creativity and excellence. Teams fail when they focus heavily on function and efficiency at the detriment of creativity and high quality results.
Instead: Build time and allocate resources into team projects for creative thinking and execution — and commit to a process that aims for excellence.
8. Inability to handle conflict
Team conflict can be good: It often leads to more creativity and accelerated results. But many teams fail because they avoid conflict or don't handle it in healthy ways.
Instead: Give team members opportunities to address issues so you can manage conflict (and help them learn to manage it). Invite opposing opinions in meetings. Ask them to submit questions, concerns and counterviews before you meet so you can manage opposition effectively while meeting. And because some people will always be uncomfortable with conflict, offer an anonymous channel to report issues.
9. Unnecessary teams
Some teams fail because they were never necessary. You don't need a team for every project or problem. Sometimes, one person can handle it.
Instead: Assess what needs to be done, and if one person has the authority, ability and resources to complete the job. If so, skip the team. Teams are best when you need multiple skills and perspectives to accomplish the goal.