As 2016 winds down, I'd like to tip my hat to the ResourcefulManager community.
I've talked to a lot of you this year and have exchanged emails with even more.
You're an exceptional group. You care deeply about your staffs and you're constantly working to become better managers and leaders.
And I'd like to think that we have helped you along the way. The only gifts we had to give were our blog posts.
We had more than 280,000 of you visit our web site this year to read them and you viewed more than 655,000 pages.
I took a long hard look at the blog posts you visited the most. And it told me a lot about you. We'll try to do an even better job in 2017.
For now, I thought you'd like to know what other ResourcefulManagers were reading. Hint: Two of the biggest favorites were actually from 2015.
So I've compiled a list of the most read posts in The Top 10 ResourcefulManager Blog Posts of 2016.
Here they are in reverse order:
10) 4 Stupid Interview Questions To Dump Right Now (And What to Ask Instead)
Interviewing is always a hot topic for ResourcefulManagers and Lisa McKale's post attracted a big crowd, 7,603 page views.
Why? Because she shared four questions that managers ask that don't actually help them. And true to our mission, she gave you four questions that were better ones to ask.
9) The Mark Twain Guide To Leadership: 20 Quotes To Live By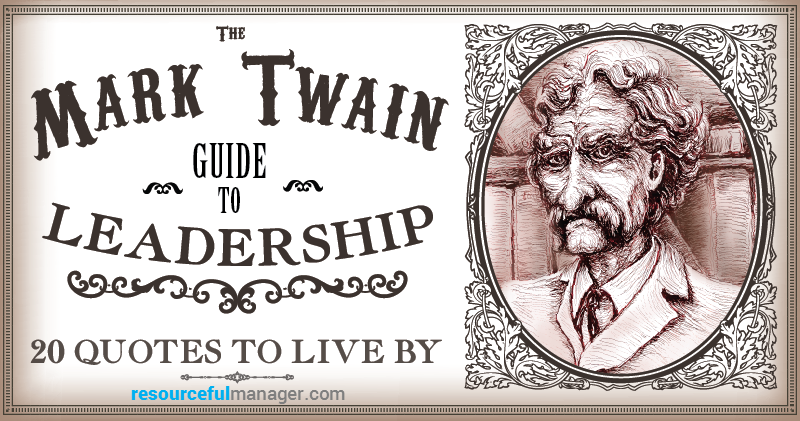 One thing we've learned is that leaders and manager love quotes. They're always looking for ones that can inspire them and their staffs.
Rich Henson compiled a list of his favorite quotes from author Mark Twain. So we turned it into a striking infographic. And it was a hit and has been viewed almost 8,000 times and shared on social media almost 600 times.
8) You're Right. Nobody Listens To You – And Here's Why!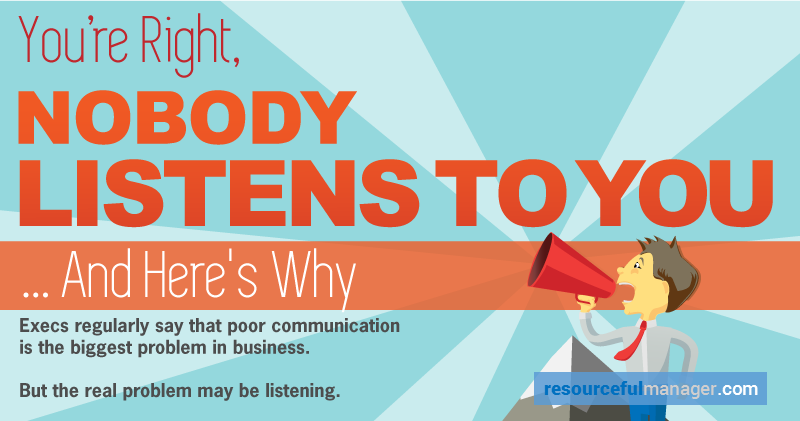 Have you ever suspected that nobody is listening? That was what our writer Nick Pipitone set out to discover.
The result was another great infographic pulled from his research. And, yes, our attention spans are shorter than a goldfish. Plus, you'll find out why your mind wanders when you're listening to someone else.
7) 17 Writing Mistakes That Make Smart People Look Dumb
There's nothing more embarrassing than using the wrong word in an email or having a typo in a report.
You may have a doctorate, but everyone else thinks you're an idiot. This post struck a nerve and more than 9,100 people read it and it got 660 social shares.
Our expert, Renee Cocchi, shared some of the biggest mistakes. And she also provided tips on how to avoid making these mistakes in the first place.
6) 12 Warning Signs Your Best Employee Is About To Quit
Wouldn't it be great if your star employees never left? You're not alone in thinking that. This post by Renee Cocchi got nearly 9,800 views and almost 500 shares.
You probably can't keep everyone, but this post outlines the 12 signs to watch that may help you head off a departure before it happens.
5) Leaders vs. Managers: 17 Traits That Set Them Apart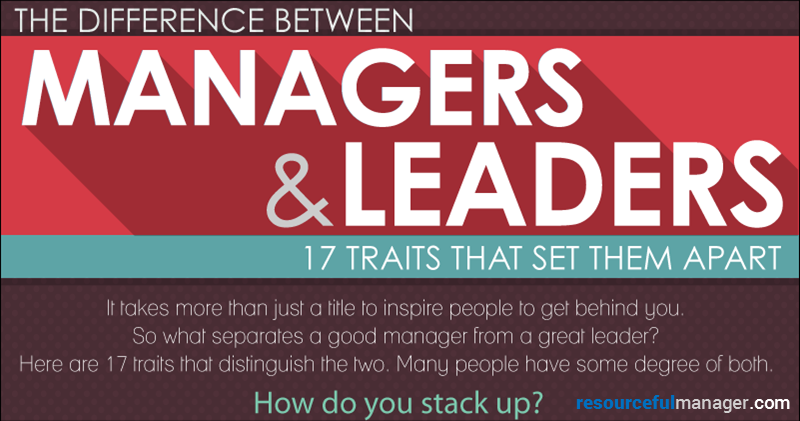 Are you a leader or a manager? Or both? Do you know?
Lisa McKale compiled a great list of traits and our comparison infographic does a great job of helping you figure it out.
It clearly was on the minds of a lot of ResourcefulManagers. Nearly 13,000 of you viewed it and it was shared more than 1,100 times.
Read the Leaders vs. Manager Infographic and post.
4) 10 Empowering Quotes from Inspiring Women Leaders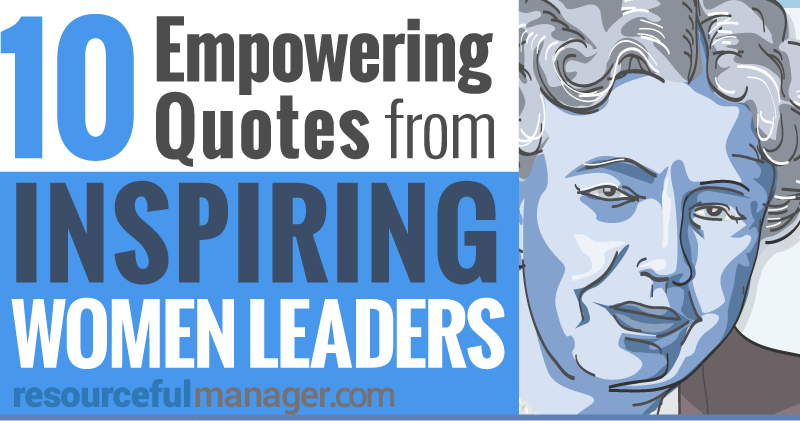 Again, our combining great quotes and an infographic struck a nerve. And highlighting great women leaders was a winner, too.
I compiled a list of 10 empowering quotes from inspiring women leaders, and it has been viewed more than 13,600 times and shared more than 2,600 times.
3) 47 Snarky Things You Wish You Could Say To Your Co-Workers
OK, there a lot of things you just WISH you could say, but you know you CAN'T. Rich Henson pulled a fun list of them together. And you'll get a big laugh from some of them. And we bet you'll spot a bunch that would match your workplace.
Naturally, this was a big draw. More than 15,300 viewed it, and it was shared more than 800 times.
2) 10 Absolute Giveaways That Someone Is Lying To You
We all know we have been lied to at some point. And Renee Cocchi outlined 10 absolute giveaways so you can spot such lies.
This post was actually written in 2015, but it was one of the top two favorites in 2016. We noticed that it really got a lot of views as Election Day neared. We'll leave it up to you to figure out why.
But for the year, it was viewed nearly 25,000 times.
1) 9 Inspiring Leadership Videos (Kids Are The Stars In No. 8)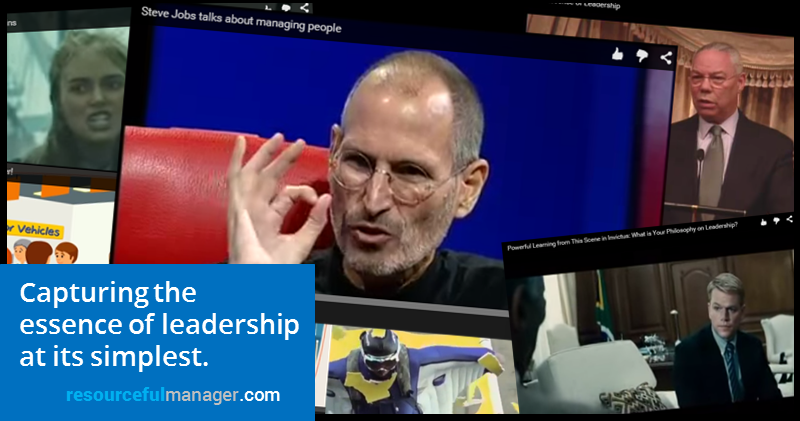 And the No. 1 most read post in 2016 was also written in 2015.
It combines two key things. Leadership and videos. Rich Henson scoured the web for inspiring leadership videos that were 3 minutes or less. His selections were powerful. ResourcefulManagers loved them and the post continues to be a hit.
In 2016, more than 43,800 people viewed the post. You'll have to take a look to see why it is so popular.