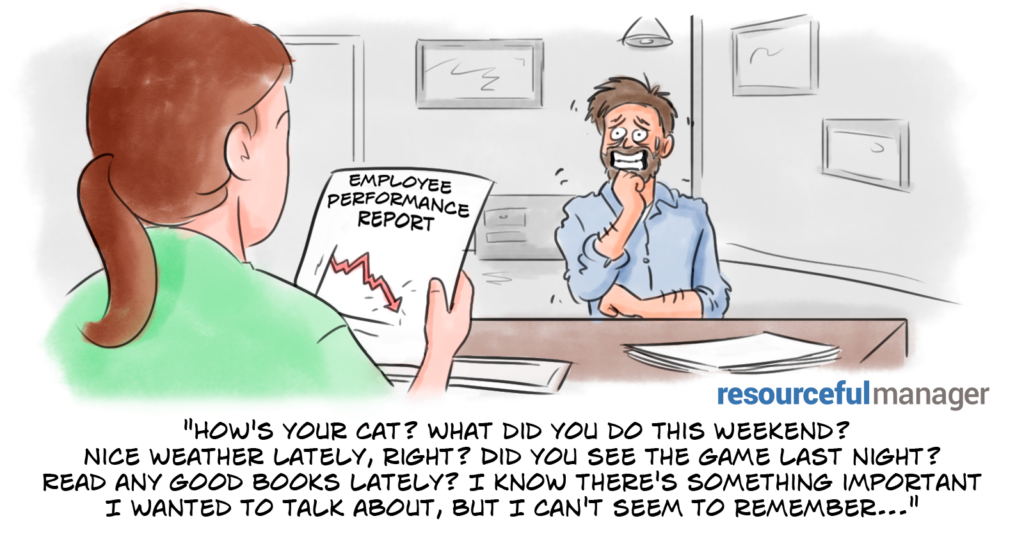 Giving tough feedback to employees can be one of the most unnerving things a manager has to do.
When you want to maintain good relationships with employees, it's only more difficult.
But, it's not impossible.
In fact, if you avoid the seven deadly sins of giving tough feedback — do the right things instead of the worst things — you can make what might be an unnerving conversation OK.
"There's a saying that people don't leave organizations, they leave managers," says Annie Rosencrans, Director of People Operations at HiBob. "While I don't believe that's always true, a poor experience with a manager can often be the impetus behind someone's job search."
Make tough feedback palatable
Surely, you don't want to send good employees packing over feedback that's meant to help employees improve.
"It's the responsibility of managers to develop rapport with their direct reports and to be able to grow their staff and teams," says Rosencrans.
And that's why you want to know the big issues with giving tough feedback. Then you can avoid them and help everyone move forward effectively.
Here are the seven deadly sins of tough feedback and what to do instead.
1. Being unprepared
Top of the mistake list: not going in prepared.
Example: "How's it going? What's new? We need to talk about X. But first, what do you think about Y?"
"Managers should make sure they have their talking points down, while – at the same time – being mindful of coming across as too scripted," says Rosencrans. "Doing this will make sure that the employee is set up for success ahead of their next review period."
Better: "Today, I want to talk about X. Let's identify what's contributing to this and how it affects you and the team. Then, let's create a plan that works for both of us to improve."
2. Generalizing
Sometimes managers want to soften tough feedback, so they generalize and forget to give concrete examples.
Example: "You're always late, and you need to improve."
"Managers can often fall into the trap of speaking in generalizations rather than citing examples with specifics, which can leave employees confused or feeling like the feedback isn't valid," says Rosencrans. "An example helps make sure the feedback is clear."
Better: "You were 30 minutes late on Monday. Last week, you came in 20 minutes late Tuesday and Friday."
3. Failing to establish trust
A Kellogg School of Management researcher found that many first-time managers fail to establish trust with employees before they jump in with any feedback.
Example: "What you're doing is wrong."
When you don't first establish trust with your people, they'll have a harder time hearing, accepting and acting on your feedback, the researcher found. The key is to get to know your employees — especially their career aspirations and goals. That way you can tailor feedback toward their goals.
Better: "When I struggled with X, I did Y. You might want to try that, as it'll help you achieve Z."
4. Indirectness
Being indirect is like adding a spoonful of sugar to the medicine. It's sweet and dilutes what needs to be done. It's often done in the form of the feedback sandwich: nice, not so nice, nice.
Example: "Your report was good, but it lacked key details. I can tell you put a lot of effort into it."
"As managers, we want to make sure we're empathetic and not too harsh when giving constructive criticism, but if you beat things around the bush, they won't change," says Rosencrans. "Directness is critical when providing tough feedback in a performance review, as it sets people on the right path and eliminates miscommunications and misunderstandings."
Better: "Your report lacked key details. Please re-focus on X, Y and Z and turn in a new version by Friday."
5. Skipping action
Many times, managers can dish out the feedback effectively, but they miss the opportunity to give actionable tips on how to improve.
Example: "You missed goals this quarter and you need to improve."
"If you are giving the feedback that someone did not perform something to your satisfaction, you should have an idea of what would have been the ideal action to take," says Rosencrans. "Come armed with examples and steps an employee can take so they know how to act when a similar situation arises down the line."
Better: "You missed the goal on the last three sales by 10%. To improve, I suggest you spend one more day each week qualifying prospects or focus on increasing pocket share of your two best customers."
6. Not following up
It doesn't make sense to give tough feedback and never make sure that it was received and rectified.
Example: "Hope everything is working out."
It's critical to follow up for two reasons: You want to be sure your message was clear and accepted. And you want to know the employee is doing what's expected with the difficult feedback.
"Today's workers appreciate investment from their managers and will be receptive to a manager who is trying to do their best for them," says Rosencrans.
Better: "We'll meet in a month to check your progress on these changes. In the meantime, please send me a report each week with just a few notes on how you feel about the change, your ability to handle it and any more resources you need from me."
7. Avoiding or delaying
The worst of the sins: inaction. Some leaders just avoid or dangerously delay tough feedback because they don't want to deal with the awkward encounter.
Example: Radio silence.
The Kellogg researcher suggested managers be consistent with feedback sessions, building them into the regular way of working. That way, when there is something difficult or negative to address, it's natural to have the conversation.
Better: "When we last met, we talked about X. Today, let's address Y. I want us to work on a plan to improve it."
As Rosencrans says, "If someone doesn't understand what they did wrong or where they underperformed, they won't know how to do it differently in the future."