When employees are happy, their productivity level jumps 12% – but it drops by 10% if they're unhappy.
So can you tell if your team has slid from happy and content to bored and unmotivated?
Or have you already lost your team and don't realize it?
If you catch them before they hit rock bottom and start looking for greener pastures, you can turn them around.
Be alert for these seven signs that your staff has checked out:
1) They're Taking Lots Of Days Off
Employees always try to impress management by limiting time off, right? Well now they're suddenly putting in for two-week vacations.
Employees who usually have good attendance but suddenly become scarce are a sure sign they could leave forever, says Phil Laboon, CEO of Eyeflow Internet Marketing.
2) Group Meetings Are A Big Shrug
Your team gatherings used to be boisterous, filled with everyone trying to get a word in.
Now you can hear the IT servers humming.
A noticeable drop in contributed ideas means your team no longer cares about the long view. Once they lose that creative fire, it can be downhill from there.
"Ignoring it won't do any good," says Chris Cancialosi, a managing consultant at GothamCulture.
3) Your Top Go-Getter Left, And You Didn't Replace Him
Your all-star's leaving came as a surprise to you. (In fact, you're still shocked!) But your team might miss him more than you do.
He may have been more of an MVP than you thought, encouraging others to perform better. Leaving that hole in your line-up can backfire if no one steps up to replace him.
4) There's Open Cynicism
If you start detecting blowback in meetings or eye rolls during team-building exercises, storm clouds are likely brewing.
When employees who aren't usually insubordinate start complaining or questioning authority, it's a sure sign trust is lacking.
5) You Work In A Ghost Town
Even employees who aren't on vacation are never around. Lunches out get longer, they've "got an appointment" every other day, or they've simply stopped popping by your office to check in.
It might not mean they're interviewing on the sly. But it does mean they've mentally checked out.
6) You're Hearing The Rumors
Your rank-and-file workers used to keep gossip close to the vest. Now, they're cornering you to let you know so-and-so had a blow-out argument in a manager's office and stormed out.
And they don't seem nervous, just … envious. They wish it was them!
Employees who observe unsettled departments and other crises and aren't afraid to mention them have likely lost respect for the work culture – and their jobs.
7) They're Dropping Like Flies
One employee leaving is normal. But two months later, two more leave. Then three months after that, there's a small exodus: four more, giving notice within weeks of each other.
Now you're hemorrhaging.
In case you haven't noticed, good paying full-time jobs are harder to come by than ever.
A rapid jump in departures is likely the biggest sign your team was merely bench-warming until something (anything!) better came along.
The Employee Turnover Cure
A 6-Step Retention Plan That Pinpoints The 12 'Fixable' Causes of Turnover And Specific Presciptions to Cure Them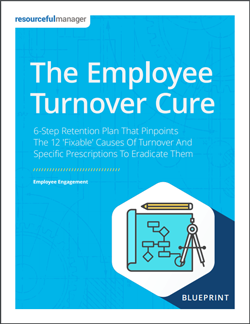 There's nothing worse than when your good people jump ship. So how do you keep them? Check out The Employee Turnover Cure Blueprint.
In a recent survey, only 53% of employees said they'd still be with their company in a year. That's the world we live in today. But this Blueprint can help you change that. Here are just a few of the things you'll get:
4 tools to take the temperature of existing employees and uncover the true reasons people leave your company
What employees actually want – but rarely say – that determines whether they'll stay and the simple things you can do every day to retain your team
10 case studies from real companies with strong employee retention
The truth about counter-offers – and whether it's worth trying to "save" someone
The #1 reason why employees quit and why bad managers don't believe it to be true