"We are becoming the men we wanted to marry," Gloria Steinem declared in the 1970s.
A journalist and social activist, Steinem was a leading voice in the feminist movement that took off in the 1960s.
So, have women really become the men they admired?
Well, women have dramatically joined the workforce.
And they are increasingly doctors, lawyers, politicians and scientists.
But for her quote to be true today (some 45 years later), all those men would have to take a 22.5% pay cut.
For a better understanding, here are 11 fascinating and very true stats about woman at work:
1) Women Are Taking Higher Education By Storm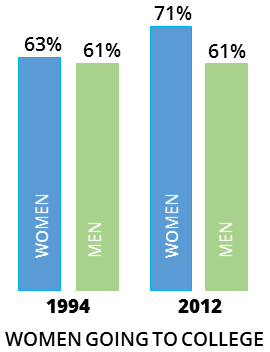 One of the great shifts in gender equality is taking place in education. More women graduate from high school, attend and graduate from college, and earn post-graduate degrees than men.
In 1994, 63% of female high school graduates and 61% of male high school graduates were enrolled in college the following fall, according to the Pew Research Center.
By 2012, that same number for women jumped to 71%, but remained unchanged for males, at 61%.
Some say the reason for this is because workplace barriers to women are easing, and so the benefits of a college education are more attractive to women. But it is also a possibility that more men are foregoing college due to other reasons, including disciplinary and behavioral problems in high school.
2) Higher They Climb, The Greater The Wage Gap
Even as women are flooding onto college campus, here's a disappointing trend: The higher women climb in the work world, the harder it is for them to earn what men are paid.
Women in professional specialty occupations earn 72.7% of what men in the same position earn.
Women in upper level executive, administrative and managerial occupations earn even less at 72.3%.
The pay gap across all occupations is 77.5%.
3) Is There Any Place Women Earn The Same As Men?
No, unfortunately, there is no such place. But, it can be to a woman's advantage to work in a labor union.
Women who work in unionized professions make 82% of men's incomes.
So, while there's still a gap, it's much less than in professions without unions, where women make 72% of men's incomes.
4) The Accumulative Wage Gap Is More Than The Price Of A House.
By age 65, the average working woman will have lost more than $430,000 over her working lifetime vs. men, because of the wage gap.
She could've bought a pretty nice house with that!
The U.S. Census Bureau says the median price of a house in January 2015 was $294,300.
5) Women Bring Home More Of The Bacon
More than ever before, women are the breadwinners in their household.
Over 40% of moms are now the sole or primary source of income in U.S. households.
Women are now the primary or co-money maker in nearly two thirds of American families and working married women bring home 44% of their family's income.
6) More Women Are Owning Their Own Businesses
Though men still outnumber women in the business world, women continue to embrace the entrepreneurial spirit.
Today, 30% of all businesses are owned and operated by women, though other research has put that number closer to 40%.
Between 1997 and 2014, the total number of businesses in the United States increased by 47%, but the number of women-owned firms increased by 68% — a rate 1 ½ times the national average.
7) Women-owned Businesses Have Generally Lower Revenues
Though there is clear growth in female-owned businesses, they tend to have lower revenue.
American Express OPEN, the small-business payment card vendor, says women-owned businesses have average annual revenues of $155,000 vs. $400,000 for a typical privately held business. That's 61% less revenue.
Further, the more employees in a female-owned business, the greater the gap in revenue versus all similar-sized enterprises.
8) Globally, U.S. Women Not Faring So Well
When it comes to gender equality, the best places for women are in Europe. The United Nations' Gender Inequality Index ranks countries from the best to the worst. It measures gender disparity by looking at reproductive health, empowerment, political participation and labor market participation.
In the 2013 index (the latest available), the Top 5 countries were (drumroll, please):
1. Slovenia
2. Switzerland
3. Germany
4. Sweden
5. Denmark
The Bottom 5:
148. Mali
149. Afghanistan
150. Chad
151. Niger
152. Yemen
So where does the great ol' USofA sit? About a third of the way down in 47th place.
9) Women Like Their Jobs More Than Men
Looking for a loyal employee? Hire a women.
It seems women are more engaged in their work than men, which is a bit of surprise in light of the lower pay and glass-ceiling issues woman face.
A recent Gallup study showed women were 33% engaged at work, 50% not engaged, and 17% actively disengaged.
Men were 28% engaged, 53% not engaged, and 19% actively disengaged.
The folks who did this particular survey insist that 33% versus 28% is a statistically significant difference.
10) Women Are More Likely To Have An Unstable Retirement
Today, half of all women over age 75 live alone, and a variety of factors contribute to women having a much less stable retirement than men.
They make less during their working years, are less likely to have a pensioned position, have smaller 401(k)s and will spend less time in the workforce than men. Women typically have taken more part–time jobs
Add smaller Social Security checks and longer life spans and that leaves many women unprepared to support themselves in their later years.
Education on financial planning is one key way to help change this, but evening out the playing field in the workplace is also a critical step.
11) Finally … Pay Gap Issue Reaches A Fortune 100 Proxy Vote
2015 marks the first year that the gender wage issues was forced onto the proxy ballot of a Fortune 100 corporation. I't's a first, but that's probably as far as it will go.
In February, Arjuna Capital, the sustainable wealth platform of Baldwin Brothers Inc., requested eBay publicly report the pay disparity between male and female employees and set goals to close the gap.
However, eBay has yet to publicly embrace the proxy vote. And don't expect them to. Arjuna Capital has said eBay has already squashed the idea.
The eBay moves followed just days after Best Supporting Actress Patricia Arquette used her time on the Oscar stage to push for pay reform.
"Women deserve equal pay for equal work," Arquette said.
Arjuna said it pushed the issue at eBay because gender diversity "is a key driver of innovation and performance, factors of particular importance to the tech industry."