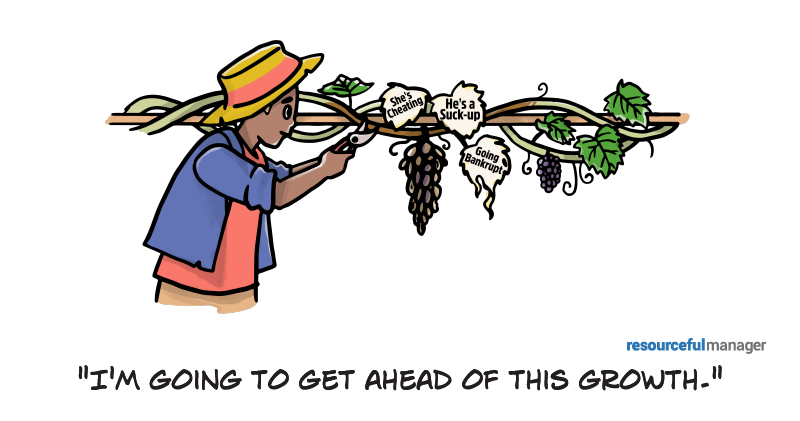 Workplace gossip. It's harmless, right? And everybody does it, so it's no big deal.
Well, maybe. But consider this from Office Pulse and Captivate research, which asked a broad range of employees how much time they spent per year gossiping with co-workers: 33 hours.
So let's say you have 10 employees who make an average of $15 per hour. That's almost $5,000 a year for gossip. You can do the math if your company has more than 10 employees and they're making more than an average of $15 per hour.
Now it sounds expensive, right? And that's probably a big deal.
But before you or anyone else in the company decides to exercise the nuclear option and ban all gossip, realize that's probably impossible, and maybe even undesirable. After all, for most people, work is a social setting, complete with all the interaction of any social setting.
So let's take a reasonable approach to gossip, and do the best we can to make sure it doesn't get out of control, harmful or expensive.
Snip the grapevine to manage workplace gossip
Why do workplace grapevines and rumors exist and flourish?
Usually to fill an information vacuum. And the bigger the vacuum, the more robust the grapevine. Whether it's up or down the chain of command, when there's a void of information, there will almost always be gossipers filling it.
For instance, let's say your company is contemplating a layoff. Now, some managers think you can keep that sort of thing top secret. But word gets out, and questions arise: Who? When? Me?
And then the gossip grapevine takes over, filling the vacuum and providing answers – which, let's be honest here, are usually false – because no one's providing the real answers.
The alternative to gossip
There is an alternative. And it involves communication steps leaders will want to take with employees:
Tell the truth, or as much of it as you can without revealing confidential information. Example: "We are discussing several ways to cut costs, and layoffs might be one. But that hasn't been decided, and no one's been earmarked for a layoff."
Make promises you can keep. Example: "As soon as I know more information, you'll know about it. In the meantime, if you have more questions, talk to me rather than guess what's going on."
Be upbeat and honestly optimistic. Example: "We're looking into what's best for the company and everyone who works here."
Realize there are no guarantees that the grapevine won't flourish in one way or another, no matter what you say. But also realize the worst thing you can say is nothing.
Tips for managers
Managers own a major role in curbing workplace gossip. They're the major vein between employees and the C-Suite, and what they hear, say and do sets the bar on workplace gossip.
So, how managers conduct themselves will go a long way toward killing gossip.
Here's a quick guide on what they want to do and avoid:
Do go out of the office door and into the workplace. An open-door policy is fine, but don't wait for employees to come in and ask. Get out and ask questions yourself; give answers. The choice is to get ahead of the gossip or get run over by it.
Don't make vague, off-the-cuff, ominous statements. In the impending layoff scenario, one of the worst things a manager could say is something like: "Things could get tough around here." That's bound to get employees to think the worst and engage in gossip. Same for email, text, chat apps and social media — it's almost worse to put ominous, vague statements there for everyone to wonder about.
Do make positive, honest statements about employees and the workplace. People will take their lead from you. If you're willing to engage in gossip, they'll be only too happy to join in.