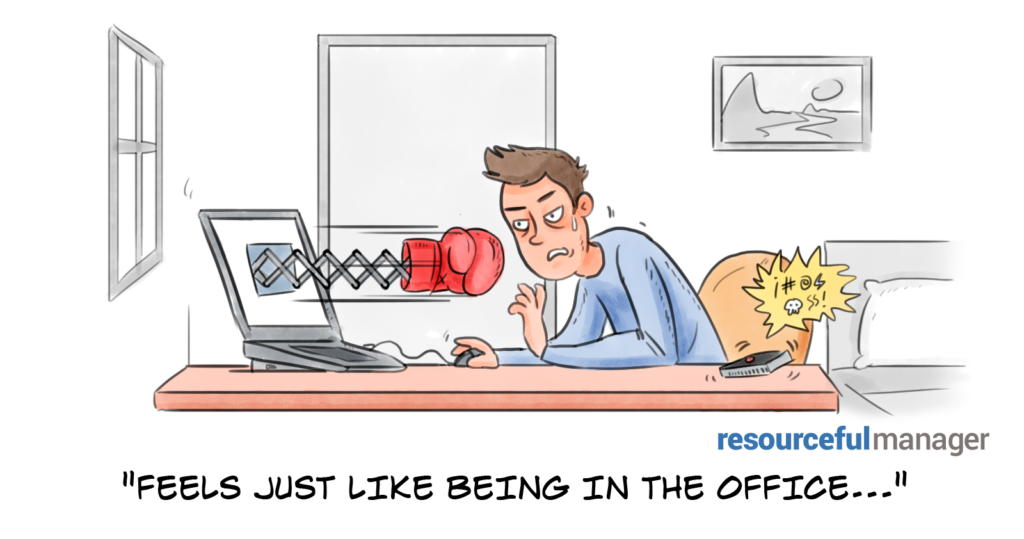 Work isn't the nicest place to be. In fact, the workplace can be downright uncivil.
Researchers recently found workplace incivility is on the rise. What's most shocking: This is happening when many of us aren't in the actual workplace!
It has most of us asking — like the band MAGIC! did in its 2013 hit song — Why you gotta be so rude?!
Unfortunately, some employees are acting rudely — or worse — online, during Zoom and in person these days.
"Workplace incivility creates a toxic work environment that undermines team cohesion and collaboration, erodes trust between employees and their managers, and can ultimately damage the organization's reputation," says Brad Smith, PhD., Chief Science Officer, meQuilibrium.
What workplace incivility looks like
More than a quarter of employees in a meQuilibrium survey said they've experienced incivility while working. What's that look like? Some of the biggest offenses include:
being ignored or dismissed
having personal or professional judgment questioned, and
In worse — and fortunately, much fewer — cases, some employees said they've experienced more extreme incivility such as being:
yelled and cursed at
accused of incompetence, and
the butt of jokes.
More specifically, researchers found these issues with workplace incivility: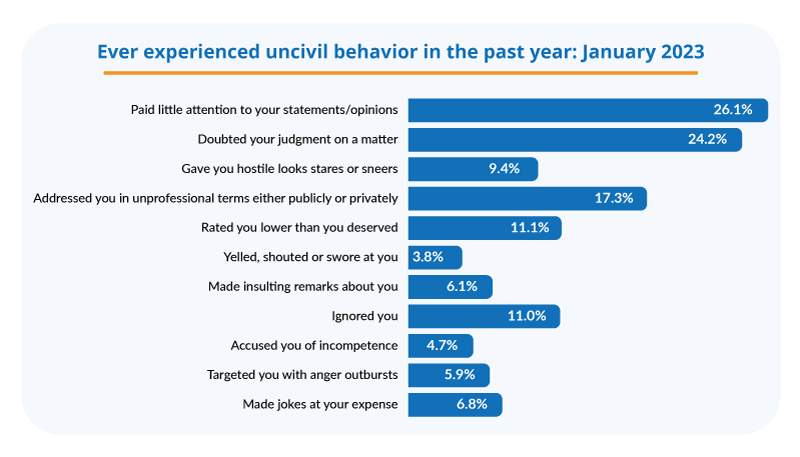 Problems can run deep
Workplace incivility can cause problems long after and far deeper than the initial jab. Rudeness, antagonism, animosity and disrespect are just seedlings that spawn toxic environments.
"When employees are subjected to rude, disrespectful, or aggressive behavior in the workplace, it can lead to decreased job satisfaction, increased stress and decreased productivity, which can result in higher rates of absenteeism and turnover, and decreased organizational performance," says Smith.
The results can be downright perilous. Employees who fall victim to incivility often end up with lower self-esteem, higher stress and decreased job satisfaction, according to two University of Florence researchers.
On a anecdotal scale, the meQuilibrium researchers found that people who experience incivility at work end up with sore necks, bruised egos and burned motivation.
That's why managers and supervisors want to set the precedence on professional, cordial and appropriate behavior in the workplace. But you'll also need to take some steps to help employees maintain the same kind of civility at work, regardless of whether it's in-person, remote or hybrid.
Here are seven ways to cure workplace incivility and increase harmony.
1. Step back, grab oxygen
Managers can't be helpful — and could possibly contribute to incivility — if they aren't well to start. The meQuilibrium researchers found the least toxic environments are where leaders check their well-being so they can ensure their employees are well, too.
"Data from the present study show that managers report higher levels of stress-related productivity impairment, higher burnout and elevated turnover risk compared to non-managers," researchers wrote in their report. "Reminding managers to put on their own 'oxygen mask' first is an important first step. It is necessary to refresh and enlarge our concept of leadership training to emphasize the necessity of leading by modeling resilience while maintaining one's own well-being as the top priority."
2. Set (or re-establish) standards
Virtual incivility — the kind that goes on behind cameras in Zoom meetings, through keyboards in workplace apps and verbally on phone calls — can be tougher to detect. So it's more important to set or re-establish virtual etiquette standards.
A good starting point is your existing, on-site behavior guidelines and expectations. In addition to those, give examples of what's acceptable. A few:
Raise your hand (real or virtual) before speaking
Address colleagues respectfully
Do not yell or use profane language, and
Listen to the speaker.
3. Pay attention
Good managers make a point to pay attention to their team's well-being. With that, they can cut turnover risk by more than 75%, the meQuilibrium study found. Plus, their employees are 33% less likely to struggle with motivation and about 55% less likely to be highly stressed.
"Effective managers who support team mental well-being dramatically improve retention and speed innovation by ensuring psychologically safe environments," says Jan Bruce, CEO and co-founder at meQuilibrium. "Supportive managers cut burnout risk, boost productivity and provide an important buffer against incivility."
How can you do it? Decide to do it. When you check in with employees at regular one-on-ones, ask how they feel about the state of civility on the team and in your workplace. If you hear red flag words such as "ignored," "yelled" and "rude," it's time to address issues head-on.
4. Encourage calling 'in,' not 'out'
People tend to call out others when they experience or witness incivility: Defense is the natural instinct.
But the University of Michigan and Dalhousie University researchers suggest a counterintuitive approach: Call in people.
Here's how it works: Invite instigators into a quiet meeting to talk, understand, learn and hopefully correct negative behaviors — all the while supporting victims, too.
Some keys to the conversations:
Avoid blame and snap judgments
Cite exact behaviors that violate codes of conduct
Focus on how the behavior affects others, and
Guide the person to take responsibility for the behavior and the fix.
5. Bring back the niceties
Many of the old workplace niceties — nice to have, nice to do, nice to see — don't exist these days. For instance, people don't bring in doughnuts for the crew because the crew isn't in. Teams don't chat socially before meetings start because they click in the Zoom meeting the second it starts.
But if managers make time for some niceties again, they might curb incivility.
Take the lead: Don't consider the time to "catch up with colleagues" unproductive or irrelevant. You might start meetings by giving employees a chance to share one good thing that's happened to them today. Or set up a "brag board" on your internal communication app where employees can post news about themselves, families and accomplishments.
6. Practice patience
A wise woman (who just happens to be my mom) often tells me, Patience is a virtue many desire and few have.
To curb workplace incivility, everyone needs to practice this virtue more.
"Everything is changing so fast — and the level of frustration is increasing because of the world around us. But patience doesn't mean giving up," says Lauren Shin, vice chairman, Global Consumer Practice and Board & CEO Services at Korn Ferry, in their Special Edition. "Keeping pace takes both urgency and patience on the part of everyone — and at every level."
It's practically impossible to teach patience. But managers who practice it can lead by example and gain the credibility to encourage the same behavior in their teams.
7. Draw the line
Only about 5% of employees report incivility, the university researchers found. Why? Most probably think reporting a slight in a meeting or an abrasive email message as trivial.
But if it's a pattern of rude, demeaning or disrespectful behavior, it's not trivial. And you want employees to know that you care about it and intend to work together to stop toxic workplace issues.
Try to make it easier for employees to report incivility. Perhaps you can create a form for them to report and log instances to help establish a pattern.