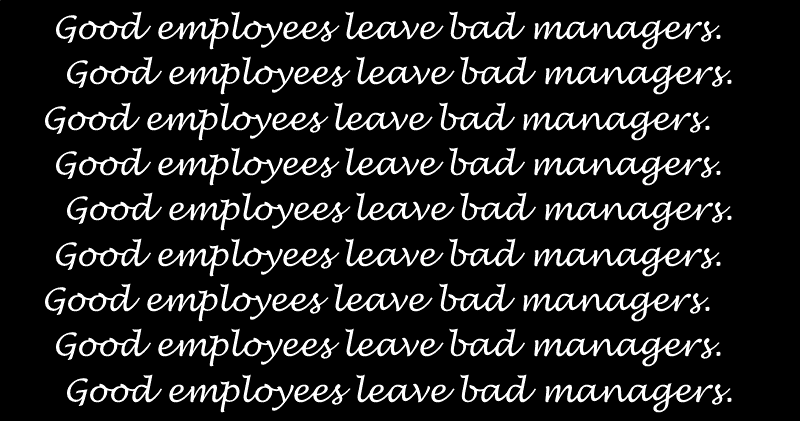 You are probably familiar with the expression that people are only as good as the company they keep. Well, the reverse is also true. A company is only as good as the people it keeps.
And while the workplace has changed dramatically in the past 50 years, this hasn't: Good employees don't leave companies. Good employees leave bad managers.
And they probably leave them more than we care to admit, if results of one study are accurate. Here are some telling numbers on the gaps between employee expectations and reality:
82% want managers to listen, 56% experience it.
94% want managers to admit mistakes, 69% said they do.
86% want managers to explain decisions; 42% said they do.
90% want to be involved in goal development, 60% are.
So, those of us who want to be good managers still have a lot of work ahead of us.
To hear good employees tell the story, the problems they have with bad managers at work are less about the workload and more about style.
4 Management Styles That Drive Employees Crazy
Here are the four manager styles that drive employees crazy.
1) Micromanaging Control-Freak
There must come a point in the life of every good manager where he or she literally has to learn how to trust employees to do their jobs. It doesn't mean not to hold them accountable – just to trust them.
Micromanagers are easy to spot because they are always asking: Where's that report? What about this? How about that? Is this done? Have you pursued that? Did you call this person? Did you call that person? Did you do that? Here, let me show you how to do that.
This drives good people crazy – and it drives them away.
Tell employees what to do, set them straight, be clear on the bottom line and the results that are needed.
Then get out of the way.
2) The Baseball Bat
If you still have managers saying this – "Do It Or Else!" – you may have some decisions to make.
Yelling and screaming at employees, commonly called the baseball bat approach, should be banned.
They are driving good people away. It's just a matter of time.
 3) The Silent Treatment
Good employees always demand to know, "Where do I stand?"
That's why good communication and feedback are key.
It's never good to say, "Kathy, if you haven't heard from me until next year's evaluation, please know in your heart that you're a good employee."
Translation: "Kathy, you're doing OK, so I'm going to spend all of my time ignoring you and managing the crummy employees."
Obviously, that's not an engaging message of value or worth to Kathy. Kathy wants to do more than just be "OK."
She is going to be completely unfulfilled, and she is going to start finding greener pastures real soon.
4) Treating Everyone The Same
Sure, consistency can buy morale – at times. And it can buy some degree of legal protection, depending on the situation.
But under the law, equal opportunity never meant equal treatment.
When a manager treats good and bad employees the same, the wrong message is being sent.
Good employees soon realize that it doesn't matter how much effort they put into heir work, they'll get treated same as every one else. So then they wonder, "what's the difference?"
Reward good people for their behavior, or be prepared to replace them.