Practical Tools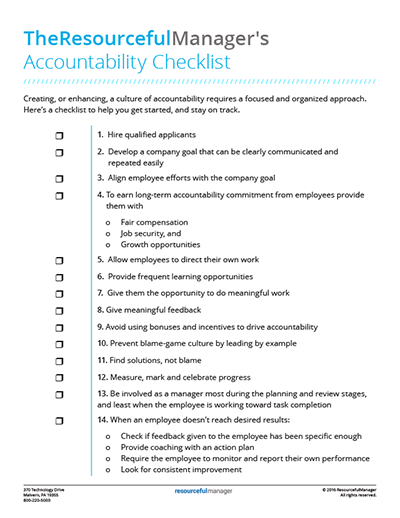 The ResourcefulManager's Accountability Checklist
Creating, or enhancing, a culture of accountability requires a focused and organized approach.
Here's a checklist to help you get started, and stay on track to building that team with incredible accountability.
In this Practical Tool you'll uncover:
How to earn a long-term commitment from your employees
What to do when an employee falls short of desired results
Ways to hold yourself accountable and exemplify what you want from your employees
Sign in
if you have an account.
Get This Practical Tool
& Much More …
With a ResourcefulManager Insider membership you'll get immediate access to the Practical Tool you're looking at right now, plus all this in your account on day one:
Quality, reliable information you can trust – professionally curated, distilled and delivered to you all in one place.
Become An RM Insider &amp Get This Practical Tool – $19/month
What Our Customers Say
"
From bite sized pieces of wisdom to full on training series, I highly recommend Resourceful Manager!
Cindy Saunders, SPHR|GPHR|SHRM-SCP,
Human Resources Business Partner
"
This is one of the best resources I have had as a people manager and use it frequently. I find good guidance and information to use and share.
Joe Byrne,
Sr. Customer Operations Manager,
Inflight Connectivity
"
Quick actionable advice backed by research. I also appreciate the common format of the blueprints and depth that is available to make implementation dynamic to my application (I don't feel like I have to change the world at once).
Kenson,
Quality Manager