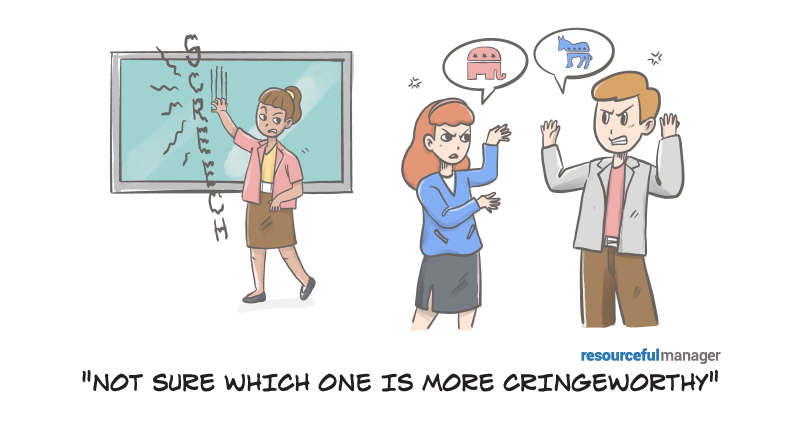 Don't you hate it when someone gets on a cringeworthy subject – like politics, religion or money – at work?
Most people want to walk away. Just a loud few want to discuss it. Problem is, most of us don't know what to do when the topic is taboo.
Part of the problem is we don't want to make the matter worse – especially when things can get particularly heated around elections. Another part of the problem: We don't want to risk letting our own opinions spill out when they differ from the loudest.
But diverse views have a place in healthy work cultures. And leaders can help employees navigate conversations when the topic is taboo – or just uncomfortable. What's more, when you help employees have respectful, professional conversations, you can improve engagement and stamp out another root of stress.
"To create a highly engaged and diverse culture you need to build on a foundation of psychological safety, where employees feel safe to be themselves. This includes a humble acknowledgment that we often work with people who have different political beliefs than us," says Adam Weber, Senior VP of Community at 15Five.
Here are four strategies to alleviate or navigate uncomfortable conversations and taboo topics.
Be proactive if the topic is taboo
Oftentimes, employers, HR leaders and front-line managers know something sensitive or contentious is in the making. And employees will likely talk about it in the workplace, despite any inappropriateness.
That's the time to get ahead of it.
"It's good to be proactive when possible," Weber says. "For instance, we knew that the Supreme Court was deciding on the issue of Roe v. Wade weeks in advance and we sent a message ahead of the decision."
15Five used this formula then – and it'll work for almost any subject:
Acknowledge that it's a deeply personal issue that connects to personal lives, families and faith traditions
Stress the importance of kindness and respect around the wide spectrum of beliefs on social and political issues.
Explain how miscommunication can easily happen on forums like Slack and email, and
Offer other communication outlets to discuss the issue such as with the leadership team or HR department, and mental health counseling.
React when necessary
In some cases, you can alleviate difficult or contentious conversations in the workplace by addressing the issues head on. When you acknowledge things are happening – without taking a side – you can put employees in a more comfortable place.
"It can be naïve and come across as aloof for leadership to fully ignore what is happening in the culture when it is significant," says Weber. "Silence at times can make things worse."
For instance, around the Jan. 6 riot at the Capitol, Weber recorded a video for employees. His guideline is helpful for similar situations:
I encourage you to feel your feelings
Take space and time if you need it
Remember that part of being a diverse and caring community is that we all have different backgrounds and experiences, and
Let's do our part to both be extra gentle with ourselves, but also extra gentle with each other.
Address unconscious bias
Almost everyone brings biases to work – and they seldom recognize them. It's the proverbial unconscious bias.
While you don't need to point out biases – after all, telling people they're racist, sexist, chauvinistic and beyond will likely spark more controversy – you want to help employees understand unconscious biases poison relationships and culture.
"As we mature, we recognize that we know more today than yesterday, but lose sight that we still have so much to learn," says Jenn Lim, CEO of Delivering Happiness and author of Beyond Happiness. "That's how unconscious biases get stuck in our neurological pathways because somehow those thoughts have helped us survive. But our personal experiences don't take into account all the other personal experiences that are now sitting together in one room, in your office, in your meetings or in Zoomland."
HR likely hosts bias training at least once a year. To that, add an unconscious bias awareness element with exercises and self evaluations.
"The more leaders are transparent about our inherent differences, the more we can focus on what unites us in productive, communal ways," says Lim.
Refocus on alignment
Opinions about politics, money and religion drive people apart. Conversations about taboo topics are disruptive and sometimes hurtful. And, unfortunately, you probably can't completely eliminate them from the workplace.
But you can counteract any negative effects by rallying around topics and causes that unify your people.
"What good can your company do in the world – whether it's perpetuating the mission of the company or donating and serving a cause that is universally impactful," says Weber.
When you recognize something to rally around or an area where the group is aligned, try to:
Find ways for everyone to participate to the degree each wants to (recognizing that some won't want to participate at all)
Give employees time to be involved and/or advocate for the good, and
Share the positives. The more you can show good things happening within your organization – and their impact on people and causes – the less likely people will focus on negative topics.